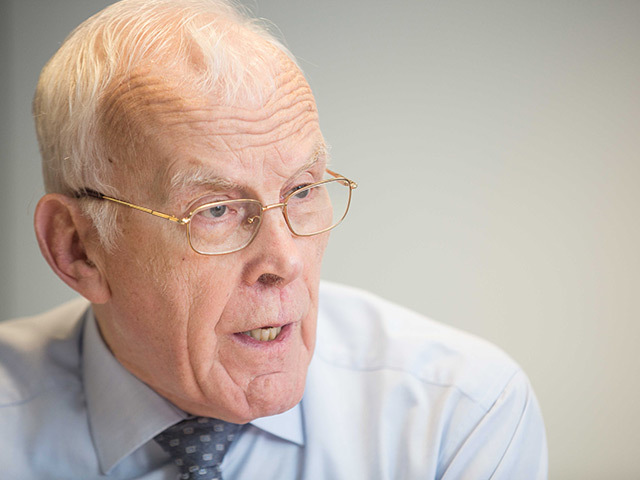 The North Sea industry is currently on track to recover only the "bottom end" of its remaining oil and gas reserves despite making some progress on improving its methods of operating.
Sir Ian Wood, whose government review has sparked a major shift in culture and regulation for the North Sea, said the industry risked only recovering 9-10billion barrels of oil equivalent, which is far short of the estimated 20billion barrels of oil that could possibly be recovered according to industry assessments.
But with interventions in technology – aided by the establishment of the Oil and Gas Technology Centre (OGTC) – as well some as "serious collaboration" amongst oil and gas firm in exploiting "small pools", North Sea oil and gas firms could exploit a further 5 to 10 billion barrel, he said.
Speaking at a breakfast event in Aberdeen yesterday, Sir Ian was joined by on a panel that included Colette Cohen, chief executive of OGTC, Melfort Campbell, chair of the Scottish Government's Independent Expert Commission on Oil and Gas and Andy Brogan, the global oil and gas transaction advisory services leader for EY.
He said: "If you look at 9-10bn barrels, which is frankly where I think we are going right now, we are way down at the bottom end of the potential scale.
"If we can do something serious with small pools and do some other things and get up to 15 to 20m barrels."
He said that developing and implementing new technology – which he admitted the industry resisted before oil and gas prices slumped – and operators working together to exploit an estimated 3billion barrels of oil trapped in small reservoirs was essential to improving recovery.
"Looking ahead it is going to be difficult, but hopefully there is some real daylight appearing in the next two or three years," he said.
"Collaboration is still the biggest single thing that will lead to improvement."
He added: "I'm going to say we are about a third of the way through the mindset change towards collaboration.
"We have a long, long way to go."
Ms Cohen, who will oversee the official opening of the OGTC in Aberdeen on Friday, said the North Sea needed to look to automation technology used by online retail giant Amazon as well as increasingly inexpensive sensor technology to usher in "smarter ways of doing things".
She said: "There is absolutely a way of improving the late life management of assets which should, if we do it properly, extend the life and change how we do our operations and maintenance.
"We do it based on knowledge and data.
"That is one of the biggest opportunities for us."
Recommended for you

'Tsunami' of unrest to hit North Sea as 1,400 workers ready to strike