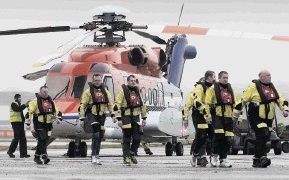 Unite the union is urging Scottish ministers to "keep their eyes on the prize" by focusing on oil and gas exploration rather than jumping the gun with North Sea decommissioning plans.
The call for renewed government investment in the exploration and production (E&P) sector comes on the back of two major announcements which could herald the beginning of the region's endgame.
Shell's announcement of its intention to remove facilities from the Brent field was followed shortly by the unveiling of a new £5million Scottish Government fund to support decommissioning projects.
But Scotland's largest offshore union says that government and industry must start planning for new investment in exploration and extraction.
Unite Scottish secretary Pat Rafferty said: "In the last year, there has been a growing focus on decommissioning in the offshore sector.
" Some people might be forgiven for having the impression that the days of new exploration and extraction are coming to an end.
"Unite is clear – that is simply not the case."
The union chief said a strong decommissioning strategy was needed to ensure the decomm work stays in Scotland in years to come.
He added: "But while planning for future decommissioning, we should not take our eyes off the prize.
"Our focus must remain on extracting maximum economic benefit from the estimated 22 billion barrels of oil and gas still in the UK Continental Shelf."
Unite is calling for both the Scottish and UK governments to use their borrowing powers to take out public stakes in new offshore infrastructure.
The union claim this move would encourage companies to also invest and would support jobs and treasury revenue.
A cross-party motion supporting Unite's call for public investment in new oil and gas exploration will be debated in the Scottish Parliament at the end of the month.
Recommended for you
X

SNP's North Sea decomm fund barely a 'drop in the ocean'