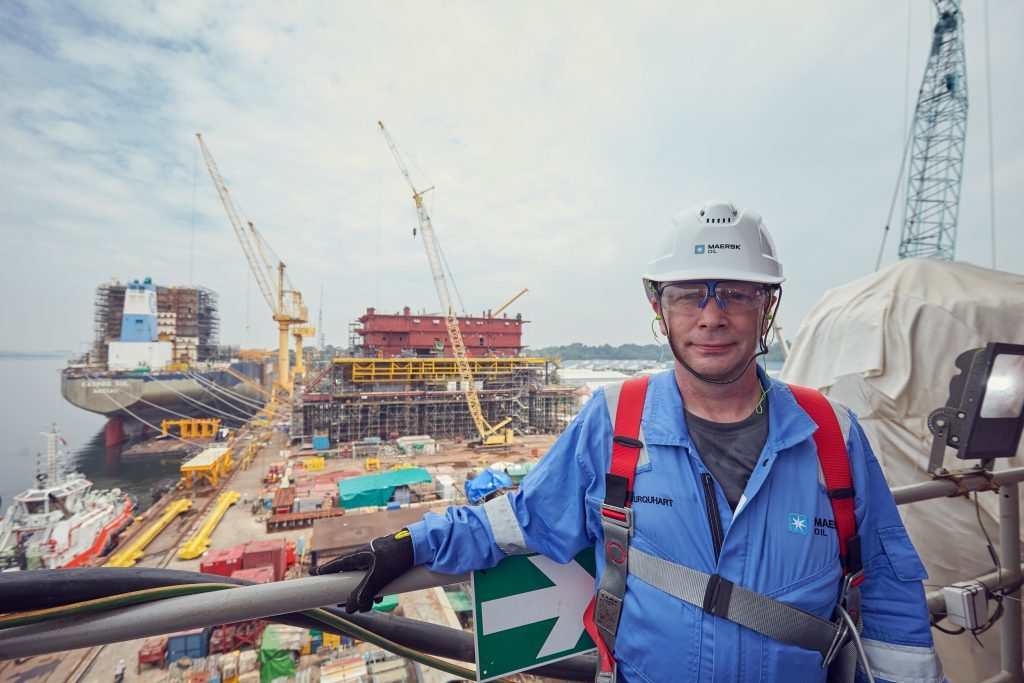 Maersk Oil's landmark North Sea project is "bang on schedule" with contracts for hook-up and commissioning expected to be awarded "in the next couple of months".
Bosses at Maersk Oil said yesterday that construction of the Culzean field's three topsides was reaching a "critical phase" in Singapore ahead of sail-away next year.
They also spoke about the challenges brought on by the oil industry downturn and confirmed the UK market was the intended target for the gas.
About 2,500 people are working to get the huge modules ready in hot and sticky conditions at Sembcorp Marine's huge Admiralty Yard in Singapore, which Energy Voice visited yesterday.
The Culzean floating storage unit (FSU) is under construction at a separate yard, which EV will tour today.
Martin Urquhart, project director for Culzean at Maersk Oil, said he was delighted with the progress being made as the project looks set to come in on time and under budget.
First gas from the field is still slated for 2019 and as Maersk Oil revealed in December, costs on Culzean have been slashed by £410million to £3.3billion.
Mr Urquhart said: "So far so good – we are right where we should be on a project of this scale.
"And we were really fortunate to be able to announce last year that we'd been able to take out around half a billion US dollars."
Mr Urquhart said the savings were achieved through shifts in foreign exchange rates, more efficient drilling and supply chain deflation.
He said the initial project cost estimate contained "growth allowances" for contracts it had yet to award.
When supply chain costs fell amid the crude price rout, Maersk Oil was able to find savings.
But the downturn did create some hurdles for Maersk Oil to clear.
Mr Urquhart said: "One of our top 10 risks is the health of the supply chain. We want to work very closely with suppliers and we believe we've picked good supply chain partners.
"But further down the supply chain we have seen on the project a couple of instances where companies have needed assistance, so we have had to change tack and move to a different company.
"The nature of the supply chain or any business, for that matter, is that no one is going to declare they are going to go bust before they get into trouble. It's something that's always there in the background."
Mr Urquhart also revealed that activity continues apace back in the North Sea to prepare for the arrival of the topsides and FSU.
The Maersk Highlander rig started drilling the first of six planned production wells on the high pressure/high temperature field in September.
A pipelay vessel is now getting ready to mobilise in Rotterdam while survey vessels clear boulders from the seabed.
The remaining two topside jackets will also be installed on Culzean, 145 miles east of Aberdeen, later this year.
Mr Urquhart said Maersk Oil wanted to get as much work done as possible in both the UK and Singapore to "decongest" the topside installation campaign.
"We're just reaching the critical phase now," Mr Urquhart said. "What we've done so far is build the decks and put long-lead equipment inside.
"Now we're going to plug all that together with pipes, cables, valves, instruments and junction boxes.
"That work needs to be very well coordinated to have a successful fit-out and installation phase.
"That's important because the more we get commissioned here, the less work we are taking offshore to Aberdeen. We're minimising carry over. So 2017 is a really big year, as is early 2018."
Bids for hook up and commissioning work are being evaluated with one or more contract awards likely to be announced in the next two months.
Maersk Oil and project partners BP and JX Nippon estimate that Culzean will meet 5% of the UK's total gas needs at peak production.
Mr Urquhart said Maersk could look to start making commercial agreements in 2018-19 for the sale of gas from Culzean.
Mr Urquhart said: "The European gas market is so well interconnected now and there are so many options for gas strategy, we wanted to see how things would play out and try to get the best deal closer to the time.
"The market is changing all the time. With LNG coming into Scotland for the first time at Ineos's site in Grangemouth. So that's a new dynamic that wasn't there before.
"What we've always talked about with Culzean is UK gas to the UK market and energy security for Great Britain. That's very much how we see Culzean. We have of course done our due diligence on high and low gas prices."
Recommended for you

Hunt told to 'fix or ditch' IR35 ahead of spring budget