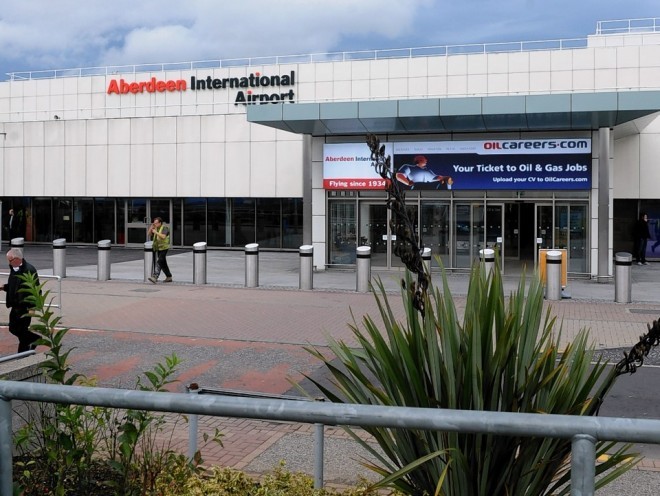 Aberdeen International Airport saw 247,000 passengers travelling through its doors in March, up 1% compared to the same month of last year.
New routes brought a 4.3% increase in international traffic while domestic passengers rose 2.4%.
Carol Benzie, the airport's managing director, said: "We have taken a great deal of encouragement from our performance over the past three months.
"It was apparent at the end of 2016 that the decline was slowing and whilst it is great to see our passenger figures for March return to growth, we are still operating in what remains an extremely challenging marketplace."
Elsewhere,Edinburgh Airport chiefs said more than 956,000 people used the hub last month, making it the busiest March for a Scottish airport ever with a 4.1% hike in numbers on the same month of 2016.
Gordon Dewar, chief executive of Edinburgh Airport said: "March's passenger figures underline Edinburgh Airport's growing international ambitions and ongoing demand to fly to and from this great city.
"We have seen another solid increase in the number of international passengers, which highlights the ever-increasing draw of Edinburgh as a global destination.
"An increase in visitors to the city stimulates the economy, creates new jobs and offers direct international links for all of Scotland."
Glasgow Airport recorded its busiest March, with more than 700,000 passengers travelling through its doors – an increase of 7% on 2016's figure.
Demand for EU destinations such as Paris, Valencia, Lisbon and Berlin increased by 20.5% over the year, while long haul carriers Emirates and Virgin Atlantic both reported an uplift in passenger numbers which led to an overall rise in international traffic of 13.7%.
Domestic traffic grew by 1.4%, with British Airways, easyJet and Flybe all seeing an increase in demand for London and UK regional services.
Amanda McMillan, managing director of Glasgow Airport, said: "Our performance during the first quarter of 2017 has ensured we've made our busiest-ever start to any year.
"Our continued growth is a direct result of our efforts in securing new routes and services for our passengers.
"If the city and Scotland are to continue to attract further visitors and enjoy the associated economic uplift, then it's important we address the high levels of Air Passenger Duty which put our airports at a severe disadvantage when it comes to competing with our European and global counterparts."