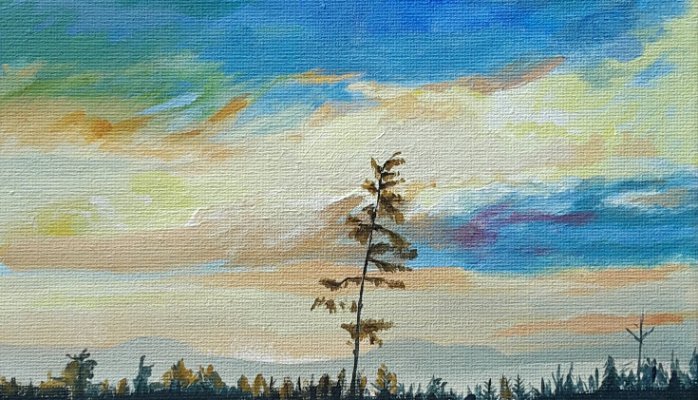 When Daniel Fairbairn lost his offshore job in the downturn, he turned to his lifelong passion for painting just to help his family get by.
Now, only 12 months after being made redundant, he is making strides as an artist and will today open his first exhibition.
Some of the Portgordon resident's work represents the drastic effect of his sudden change in circumstances.
The majority of the pieces going on display, however, are influenced by the spectacular coastal scenery around his home.
Mr Fairbairn married his wife, Christine, 16 years ago and the couple have two children, 10-year-old Logan and Callan, three.
He spent 15 years working offshore as a wireline supervisor, with firms based in Aberdeen and Norway.
It is a line of work he admits is a "far cry" from being an artist, but Mr Fairbarn's affinity for the creative pursuit began as a child.
The 42-year-old explained the career change as he made final preparations for the exhibition at the Glenfiddich whisky distillery's gallery in Dufftown.
He said: "I've painted since I was seven or eight and my granny started teaching me about perspective and different techniques.
"I was made redundant exactly a year ago, and felt I had to do something rapidly to ensure some kind of income.
"I'm still applying for jobs, but I have got to keep doing something and I'm trying to make the most of my work by selling placemats and cards showing my paintings.
"It was a big gamble, but I am getting more and more commissions and the dream would be to make a living from this."
The acrylic paintings being showcased feature views from Portgordon, sunsets over the seaside village and landscapes looking towards Keith.
One piece shows a couple, representing Mr and Mrs Fairbarn, sitting around a dinner table at sea – with a ship approaching them.
He said: "We are on the waves, and the ship symbolises our sudden economic change."
The exhibition will run from 10.30am until 6pm until Sunday, May 7, and will coincide with the Spirit of Speyside Whisky Festival between Thursday and next Monday.
The four-day long celebration of the region's hallmark industry brings thousands of tourists to Moray every year.
More information is available at www.coastoriginalart.com