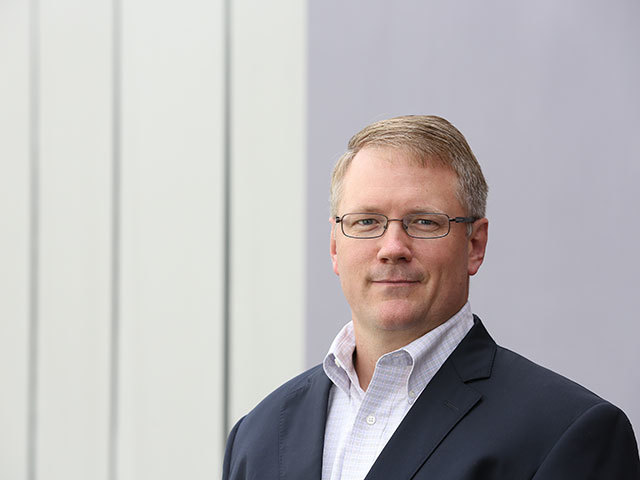 It may be HQ'd in Reading and internationally owned, but many regard Expro Group as an Aberdeen company and one of the town's bellwether offshore businesses. Jeremy Cresswell checks out the current state of play with its CEO Mike Jardon.
"We had OTC just a few weeks ago," says Mike Jardon. "I always find it particularly useful because you get such a diverse group of customers and service companies; and you get a real cross-section of thoughts, ideas and views on where we stand .
"I think it was much more positive this time than last year. I think we're starting to see some green shoots … and comments from customers and other service companies suggest this.
"We're starting to see a few projects getting the green light; but as an industry I still think we're going to bobble along the bottom for a while yet, especially deepwater."
Getting used to doing business in a new pricing environment takes time, but the way in which companies like BP (see pages 16-17) and Statoil are making their business work at $50 oil whereas they were struggling at $100, suggests that a recovery is gaining momentum.
Jardon: "I think they're both good examples. Statoil has come out and said that Johan Sverdrup can be economic at $26/28 a barrel; we've heard Shell getting deepwater projects to work at the mid to upper $30s range; and we're seeing more and more of that.
"There have been a lot of efficiency gains. Look at the efficiency gains that have come out of North America land … granted it's a different environment and almost manufacturing in the approach to drilling and completing wells.
"Their drilling efficiency is now around 30% better than in 2014. Wells that typically took 15-18 days to drill are now taking around 11-12 days.
"They've got wells with deep, long laterals that in some instances are being drilled in 4-5 days.
"Now, the knee-jerk reaction to a downturn historically has been supply chain puts service guys under pressure and the service guys go fire a bunch of people and try to get a little bit efficient. But there was no 'stickiness' to the approach.
"Because this downturn has been more sustained and I like to think that many of us try to not make some of the same mistakes that were made historically, I think there will be more stickiness on some of the cost and operating efficiency gains this time.
"I think North America land is around 60% through working up their efficiency gains. For offshore its early days with maybe 10% of potential efficiency improvements realised so far.
"I personally think that we as a service company are going to have to learn to live in a $50-60 price regime for probably the next several years. That means one either accepts having squeezed margins or you get more efficient.
"You particularly learn how to become more efficient with back-office stuff and that's where we've tried to focus … leaning (slimming) our own organisation and not just by reducing head-count every time you lose a dollar of revenue."
Jardon is very clear, at the end of the day, Expro's engineers, technicians and field personnel are its future. It is they who will quite literally deliver recovery from upstream's 'coalface'.
But how has Expro managed to weather the latest global storm? After all, there is evidence of a struggle in the company's financials.
However, Expro has also experienced that $100-plus La-La Land where many companies were in fact losing money. But then the industry frog started to cook from June 2014 as the oil price plummeted and the next thing was that oil was sub $30 early the following year before eventually picking up to current levels.
Yes, things are improving, but Jardon thinks the customer base remains very nervous about making investment decisions. That's all the more reason for ensuring that the well-flow management group gets as fit as possible.
So what has been done over the past nearly three years?
"We started looking at our organisation around September-October 2014 and made headcount reductions," says Jardon. "We had gone through a period of tremendous growth, we were hiring lots of people.
"But, historically, we hadn't done a lot around performance management, we hadn't done much around cross-training; and so when we had the lull it gave us a chance to really look at our organisation and say, OK, how can we start to make adjustments?
"I wish I could say it was because we predicted that we were going to see a cycle, but nobody did.
"As we moved from late 2014 into 2015, it was becoming very apparent that we were headed into a down-cycle … no-one predicted it could be three years."
According to Jardon, the transformation of Expro really started in 2010 when the leadership started to look at a common global operating model.
Historically, Expro has always been strong but run in a decentralised way. It meant that the corporate culture varied considerably from country to country. Even where there was a
common language … say Portuguese as in Angola and Brazil, that did not mean people being transferred between locations could hit the ground running.
Transformation was gaining traction but, come 2014, the decision was taken to accelerate the process.
"It was an opportunity for us to take out a lot of cost, drive greater efficiency yet at the same time sustain core technical expertise," says Jardon.
"One of the things that the industry has done historically and many have again done this time is that they have blindly released people and within a year were scrambling to get those people back because they had cut too deep.
"In our case, we've identified those who are multi-skilled, those who are the real experts. We need to retain them because this is a cycle, there will be a recovery. Will it be tomorrow, next week, next month? I wish I knew. Meanwhile we have really been trying to protect that group."
So, has it worked?
"It's too early to tell," admits Jardon. "I think it would be pretty smug of us to say: 'Yep, what we did was right.' We need the benefit of being able to look back before we can ask: 'How are we doing.'
"One of the key proxies that I look at is our HSE and service delivery performances because they're a really good indication of what the morale and spirit of employees is.
"I believe that as we go forward, customers are really going to differentiate their service providers on how they delivery their service, what their operating efficiency is and so-on."
Last year, not only did Jardon become CEO following a spell as chief operating officer, the company's ownership changed too.
The deal was covered by Reuters and one or two others, but that seems to be all. There's no reference to it on the Expro website.
That change could have led to massive job losses; all sorts of stuff. So how did Jardon manage his way through that change, even survive it?
"I also had a daughter who got married during that period too," he quips. "I'm very proud that I successfully navigated both.
"We've not made a big issue out of the capital restructuring that we went through in October. It was a pretty consensual process. The way our capital structure was set up was that we had two primary equity holders – Goldman Sachs and Arle/Candover. We had a group of mezzanine debt holders like KKR and we've always had a term loan.
"We've always had a good open relationship with the equity holders as well as the mezzanine debt holders.
"When it became clear that the cycle was going to be dramatic, they got together and said they had to do something different. They were impressively (to me) focused on what do we do to put the company on a better capital footing than it was. It was not a fire sale."
Was it tense and stressful?
"At times, yes. They all recognised the value of Expro as a company and what they really wanted to do was improve the balance sheet and make sure that it continued to be a viable company. And, as it came out of the cycle, there would be tremendous value in that for all of the equity holders.
"It was a debt-for-equity swap and we have a slightly larger number of folk at the boardroom table today. But it is still a very positive consensual process.
"One of the things that has allowed us to do some of what we have is because we have tremendous support from the entire shareholder group and the new ones in particular, including recognition that the company needs to retain the ability to capitalise on the recovery as it kicks in.
"One of the things I witnessed when Charles Woodburn was CEO was the way Expro managed itself in the previous downturn. There were lessons to learn from that, including waiting too long to make changes to the organisation and then cutting too deeply on people. We've really tried to learn from that.
"Indeed perhaps the biggest challenge for the industry as a whole as it exits the latest down-cycle is getting back the people who were let go. Indeed it is doubly challenging.
"I think that an awful lot of organisations have shed their real talent and they're not going to be coming back.
"Because this has been a long cycle the industry's ability to attract new, young technical and engineering talent is going to be very difficult.
"We also have an industry that has not done a good job of demonstrating that this is a highly technical business . It is viewed as dirty.
"One of the things that keeps me up at night is the two tails of the age distribution curve … young talent at one end and really experienced, senior talent at the other.
"I can't fix this part for the industry. At least we (Expro) can do some things for ourselves, though we're still going to be exposed.
"The one thing that we can make really sure we impact positively is on the senior talent by trying to hold on to them. That's how you differentiate the company in many so ways including how to reinforce the business as recovery gets under way."
One of Jardon's personal biggest fears when going through the change of ownership last year was, while he knew how the original shareholders would behave, he had no idea what the behaviour of the new ones would be like.
Were they going to want to use the typical private equity play-book of squeeze every dollar of cost possible out of the organisation and don't worry about what happens down the line. Or what?
Jardon: "I've been both pleased and impressed with their ability to understand that Expro will miss opportunities to grow if it is not allowed to sustain its commitment to its people and to technology development."
So, is it also fair to say that the change of ownership sets the stage for at least the next three to five years? It would see that way, bearing in mind that, sooner or later, the new owners will want their 'pound of flesh'.
"We have an annual strategy session with the board and one of the topics we spent a lot of time on was around technology investment," reflects Jardon.
"We will double our R&D spend in the next fiscal year (fiscal 2018) versus what we spent last year (fiscal 2017), which I admit doesn't really tell you much.
"But If you look at how our R&D spend was in 2014, '15, '16, we're going to be about 25% higher than back then.
"We need to grow our R&D, it is our future. I've been very pleased with the level of support that we've got from all the shareholders recognising that we need to fuel R&D growth today … around production, plugging and abandonment, subsea lightweight intervention.
"They're in this for the long-haul."