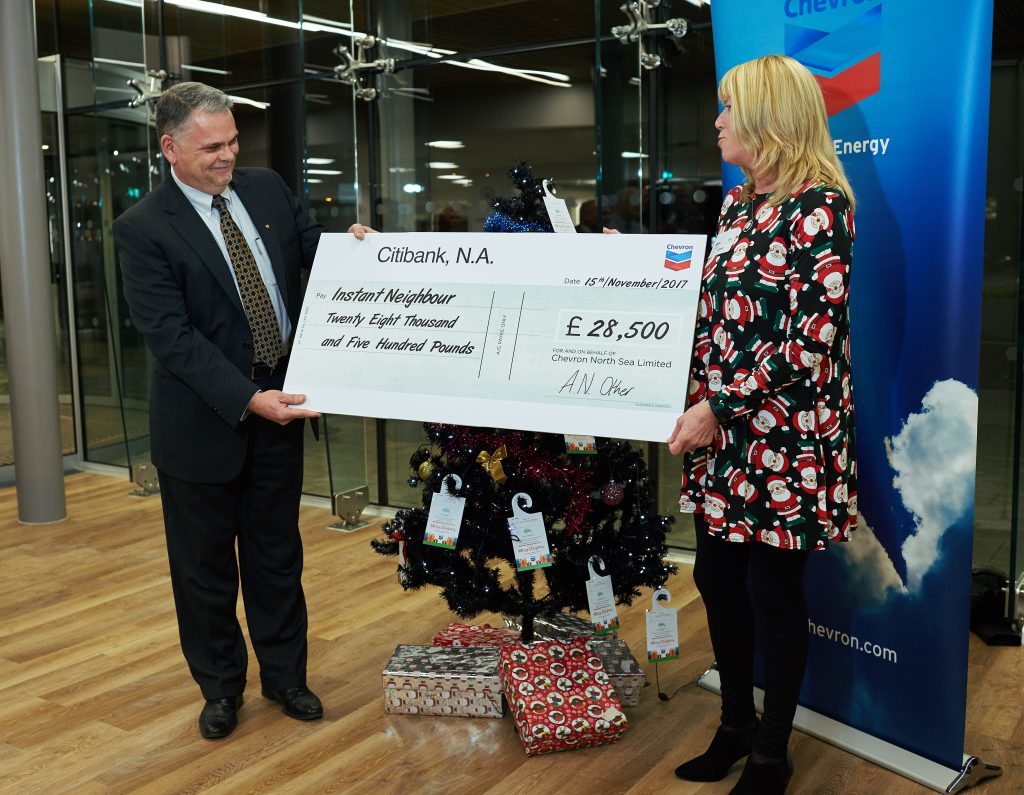 Oil major Chevron has presented an Aberdeen charity with a cheque for £28,500 in the spirit of Christmas cheer.
The cheque was presented as Instant Neighbour launched its 27th Giving Tree winter appeal.
The annual scheme distributes new gifts to young people across the north-east of Scotland who otherwise would not receive a gift at Christmas.
Instant Neighbour expects to distribute around 6000 new gifts, donated by the public, this year to young people throughout the North-east from as far north as Elgin to Laurencekirk.
Chief Executive of Instant Neighbour, Sophy Green, said: "It is at this time of the year that we recognise that not all young people receive much at Christmas and we are delighted to co-ordinate the delivery of happiness across the north-east.
"We simply could not do this without the support of the citizens of Aberdeen City and Shire and I want to thank you all in advance for your support.
"There is a huge amount of work involved in making the appeal a success and I can't thank our volunteers enough who help sort and distribute the gifts. I would also like to thank our main sponsors Chevron who give so generously to the Appeal and have done throughout its 27-year history."
Dave Dillard, Chevron Upstream Europe's (CUE) general manager for operated assets, said: "Chevron is very proud to be linked with an organisation that takes such a hands-on approach to tackling proverty in the local community through programmes like the Giving Tree, Safe and Sound and the Food Bank.
"On behalf of CUE it is my great pleasure to present Instant Neighbour with a cheque for £28,500, to continue their excellent and very important work in Aberdeen City and Shire."
Alex Yelland, Chevron Upstream Europe's policy, government and public affairs manager, addedd: "Chevron supports its local communities by partnering with organisations that are focused on health, education and economic development.
"We have been working with Instant Neighbour for over 25 years and we are pleased to be supporting an organisation that provides practical help, advice and support, through initiatives like the Giving Tree, to help people living in our local communities."
The Giving Tree appeal will run from November 15 until December 6.
People from across the region are asked to take a gift tag from one of the Christmas Trees displayed throughout the city and shire.
The tag will feature the name and age of a young person to buy a new gift for, which should then be returned either unwrapped or in a gift bag, with the tag attached to one of the drop off points listed on the tag by December 6.
Instant Neighbour is an Aberdeen charity that reuses and distributes used furniture and other goods to people on low incomes.