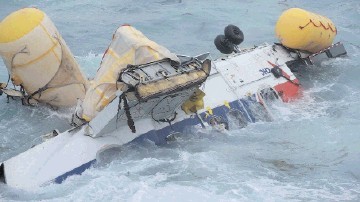 The mother of one of four oil and gas workers to die in a helicopter crash has made a fresh plea for an inquiry to be held.
A total of 18 people were on board the Super Puma which plunged into the sea off the northern isles on August 23 2013.
Sarah Darnley from Elgin, Gary McCrossan from Inverness, Duncan Munro from Bishop Auckland and George Allison from Winchester all died in the tragic incident.
Nine others managed to escape the crash but were left with physical and psychological injuries.
Shetland MSP Tavish Scott lodged a motion with the Scottish Parliament calling on the Crown Office to urgently proceed with holding a fatal accident inquiry (FAI).
No date has been set for the FAI which is mandatory when there have been deaths in the course of employment.
Elgin woman Anne Darnley's 45-year-old daughter was working as a caterer and was the first female to die in a North Sea crash.
Last night Mrs Darnley said that the families of those on board the aircraft were assured they would not face an agonising wait for answers like the relatives of the 16 people killed in the 2009 Super Puma crash.
"We have waited so long for this and the sooner it happens the better so it is no longer hanging over us," she said.
"It won't make a huge difference because none of them are going to come back. It's just something we have to go through, but it's distressing that it has taken so long.
"They said after the 2009 crash that no one would have to wait so long again and yet here we are in the same boat, but that's the situation we are in."
The FAI results for the 2009 crash were not reported until March 2016.
Super Pumas have not been used for oil and gas operations in the area since a fatal crash in Norway in April 2016 claimed 13 lives.
Mr Scott has urged the Crown to take action.
He said: "At the time of the 2013 crash the families were assured that they would not wait for many years for an FAI.
Yet it took five years after the 2009 North Sea helicopter crash with 16 fatalities for an FAI to be held.
"Police Scotland, at that time, promised families of the 2013 crash that they would not have to endure such a lengthy wait for answers. Unfortunately they did. A considerable period has now passed following the Sumburgh crash and families are still no nearer knowing what happened and why. Everyone involved would want this FAI to be held without any further delay."
A spokesman for the Crown said: "We will endeavour to carry out our investigation as quickly as possible but the investigation is highly complex and challenging and requires specialist input from those with the necessary expertise in civil aviation.
"We will continue to keep the families advised of all significant developments."