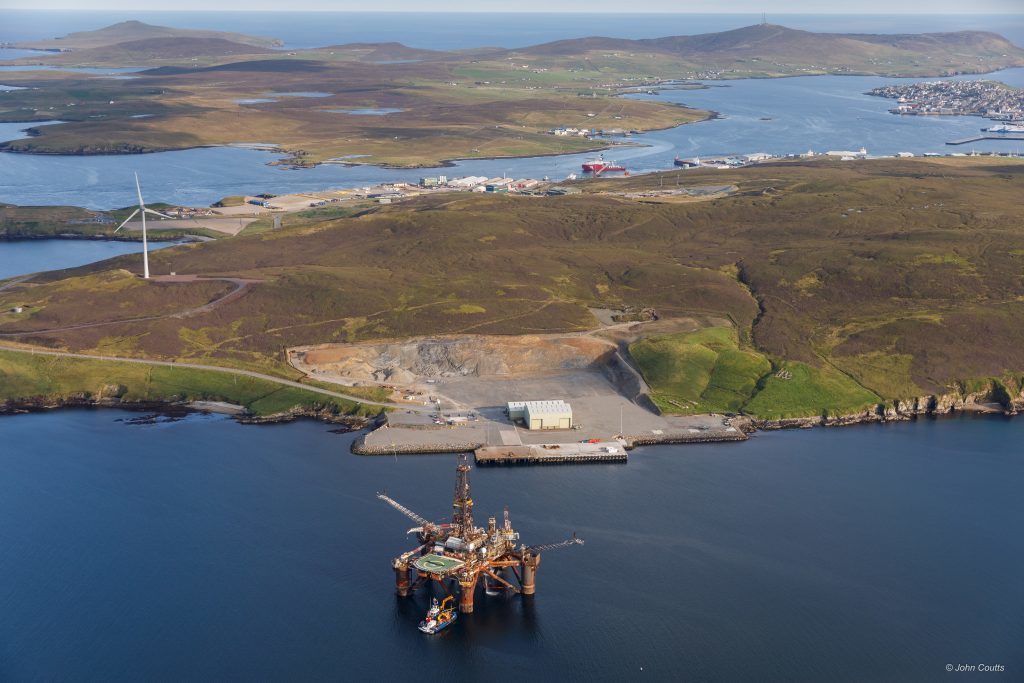 Bosses at Lerwick port have said "industry will decide" on the best location for decommissioning oil rigs after plans for a new facility in Ayrshire were revealed.
Sandra Laurenson, chief executive of Lerwick Port Authority (LPA), said the Shetland base's track record for dismantling large-scale infrastructure spoke for itself.
Ms Laurenson also said LPA's concept for a new quay with water depths of around 80ft had already gained widespread support.
The Scottish Government said in September that it was committed to investing in the establishment of an "ultra-deep water port" in Scotland
UK ports have been at a disadvantage to Norwegian counterparts which boast ultra-deep-water quays capable of accommodating heavy lift vessels (HLVs).
LPA hopes to rival Norway by constructing its own deep-water jetty, but previously said the decommissioning market was not yet mature enough to justify the outlay.
But Peel Ports has said that its main jetty at Hunterston in Ayrshire boasts water depths of 78ft, allowing it to challenge Norway.
Peel Ports is transforming Hunterston into a "decom campus" capable of delivering the full range of dismantling, recycling and asset management services.
Hunterston PARC (Port and Resource Centre) also has one of Europe's largest drydocks and more than 14million sq ft of space for operations.
Energy Voice today revealed CessCon Decom Ltd − the new Scottish-based division of CessCon Decom AS − would be the first company to offer decommissioning services at the site.
Peel Ports' plans have the support of the Scottish Government, which agreed to provide funding for new dry dock gates as part of its Decommissioning Challenge Fund (DCF).
Ms Laurenson said Lerwick's own plans had received support in "industry and government".
She also said Lerwick's proximity to rigs would stand it in good stead to win work.
About 10 years ago, the module support frame for one of the Frigg field's platforms was delivered and dismantled at Lerwick's Greenhead base.
At present, Repsol Sinopec Resources UK's Buchan Alpha rig is being decommissioned at Lerwick's Dales Voe facility.
Quay waters depths extend to 40ft at Dales Voe and 30ft at Greenhead.
Ms Laurenson said: "Based on our track record of more than 10 years' experience of decommissioning offshore structures, our concept of an ultra-deep-water quay, with 24 metres (78ft) of water, has already gained wide support in industry and government.
"Lerwick's proximity to big North Sea platforms is also seen as a time-saving and cost-saving factor in expensive heavy-lift vessels delivering structures to quayside.
"The industry's approach will determine if, when and where such a facility is required."
A Scottish Government spokesman said: "We believe that a deep water port will bring significant economic benefits for all of Scotland and we welcome all proposals which aim to unlock attractive opportunities for Scottish based firms right along the supply chain.
"Our Programme for Government includes a commitment to moving forward with a deep water port and removing barriers to heavy lift vessel access, as well as continuing to support a range of projects to invest in decommissioning facilities and innovation through our DCF."
Recommended for you

Future North Sea – Decommissioning the 'unsung hero' on the path to net zero