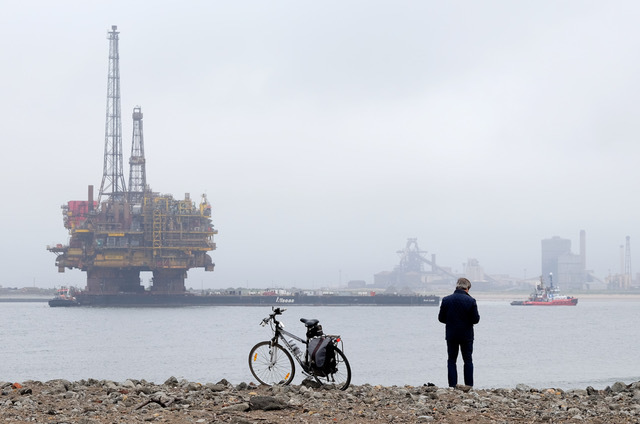 North Sea industry has risen to the challenge of lowering decommissioning costs, a regulator said today.
The Oil and Gas Authority (OGA) said the sector had potentially slashed the bill by 7%, or £4 billion, in just one year.
Last June, the organisation revealed it would cost £59.7bn to dismantle the UK North Sea and set the goal of reducing the figure by at least 35%.
The OGA said the total has dropped to £55.7bn on a like-for-like basis – which does not factor in new or planned infrastructure projects sanctioned since the initial estimate was produced.
A number of investment decisions have been made on new projects in the last 12 months, which means the North Sea will have a bigger portfolio of platforms, wells and pipelines. If they are included, the cost estimate still falls, but only to £58bn.
But OGA decommissioning chief Nils Cohrs said he was "very encouraged" with the progress industry has made.
Mr Cohrs said: "We are only one year on from the publication of the initial cost report. At the time, we made it clear that costs could go anywhere to begin with – they could go up or down. It's very pleasing to see a like-for-like reduction. It shows industry has picked up the challenge and is going for it."
OGA said the 7% reduction was primarily driven by huge improvements in "planning and execution". Mr Cohrs said new supply chain firms who specialise in decommissioning could have a big impact on efforts to lower costs further.
The OGA said there had been "no indication" that subsea well plugging and abandonment costs were going down, and noted "wide variations" in operator performance.
The cost of abandoning platform wells has dropped, however, thanks to the introduction of the so-called "batch" method.
Operators can save money by tackling a large number of wells as part of a single campaign, rather than decommissioning a small number at a time.
The OGA said ConocoPhillips and Spirit Energy had collaborated on a well plugging and abandonment campaign in the southern North Sea and had managed to complete the job 40% ahead of duration estimates.
OGA has also launched an interactive learning platform to enable companies to share knowledge regarding decommissioning, with the aim of cutting costs.
As a "mature" oil basin, the UK continental shelf is playing host to a large number of noteworthy decommissioning projects earlier than other regions.
Industry leaders have said the North Sea can steal a march by turning the responsibility for disposing of oil rigs to its advantage. Suppliers with decommissioning expertise could cash in by exporting their know-how to other parts of the world.
Shell booked the huge, twin-hulled Pioneering Spirit vessel to remove the Brent Delta platform and transport it to Teesside for dismantling last year.
Lessons learned from that process will help lower costs significantly for the remaining Brent field installations, with the Bravo rig set to come ashore next.
The company has applied for permission to leave the giant concrete legs of the Brent field platforms in the North Sea, and a decision is expected this year.
Marathon Oil proposed leaving large volumes of kit behind, including platform jacket footings, as part of its Brae decommissioning plans, submitted in 2017.
Fairfield's parent company, Decom Energy, wants to use the experience of dismantling the Dunlin area to become a decommissioning specialist.
Recommended for you

Fears windfall tax subsidy could distort North Sea electrification process