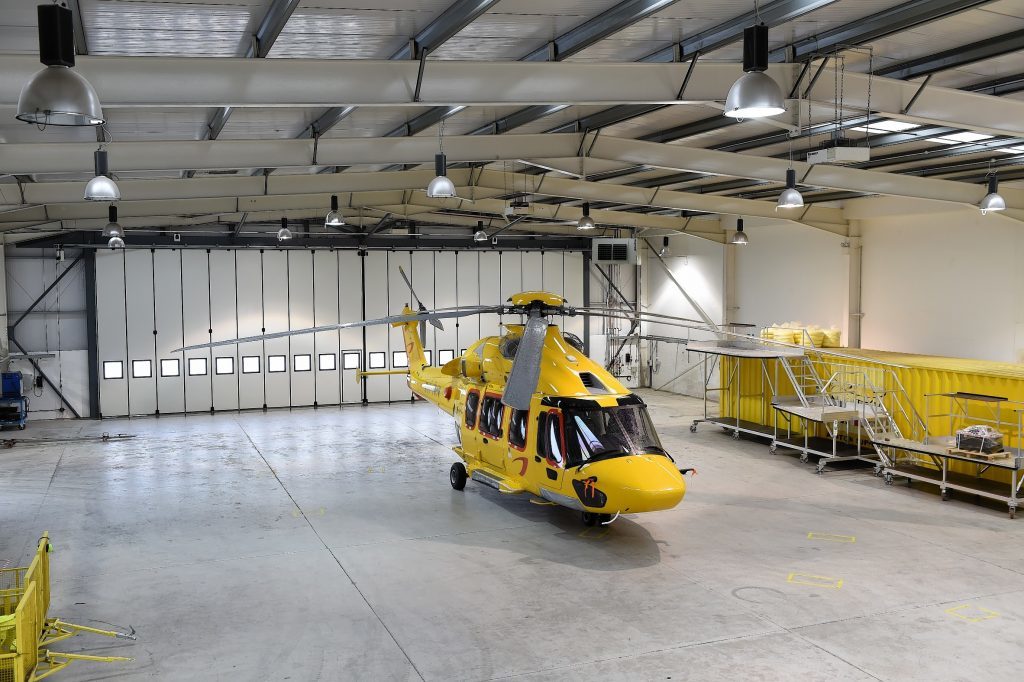 By its own admission, helicopter operator NHV Group is not a big name in north-east Scotland compared with the likes of Babcock, Bristow or CHC.
But the Belgian firm, which started out in Aberdeen just two years ago, has been making headlines recently with several high-profile contract wins.
Since May, NHV has agreed to work with Dana Petroleum, Cairn Energy and Siemens Gamesa.
Aberdeen base manager Jamie John said the company had "evolved" in the last two years.
He has ambitions for the company to be as well known as some of the legacy firms in the North Sea.
He said: "Aberdeen is our newest base. It is the oil and gas capital of Europe so it is very high-profile here.
"A lot of the customers we fly for in other parts of the world, like Europe and West Africa, already have a lot of head offices here in Aberdeen."
With North Sea assets constantly changing hands, Mr John sees plenty of opportunity coming up for the operator.
"We do see a steady flow of growth for us in the next couple of years," he said. "There are more short-term contracts and some projects coming up, not only with our existing customers but with some of the new players who are coming into the market.
"The landscape offshore is changing all the time regarding the owner/operatorship of different fields and platforms.
"So we see opportunities there with new players coming into the market but also leveraging the service we've provided for our existing customers to support them in any future projects they may have as well."
Since starting out in 2016 in a temporary base, the firm has tripled its headcount to 60 and doubled its fleet size.
The Aberdeen base has been key for NHV as it acts as the maintenance base for its fleet of H175 helicopters. A great deal of suppliers are based here.
So what is NHV doing differently that has led to the slew of contract wins? Mr John believes it is to do with their flexibility.
"What we may be offering is something different with regards to the product," he said. "There are not as many people flying offshore at the minute. We operate 16-seater aircraft which are a little faster, a little more efficient. So the numbers of people going offshore, tied with the product we're offering, is maybe setting us apart, although other operators are operating super-medium aircraft as well.
"Also, availability – we're quite lucky that we've already pre-ordered up to 16 H175s. At group level, we've just taken delivery of number 11 and added it to our Aberdeen fleet, so that is our fourth H175 here in Dyce.
"We have quite a lot of availability within our company to be able to offer the aircraft and services at the times required.
"We're not as well established in Aberdeen as the other operators, which allows us to probably offer more flexible solutions."
NHV is a global operator, working in all of the North Sea oil and gas countries as well as having a presence in West Africa.
It has a 70-helicopter fleet operating in all of those areas and employs more than 650 people.
Despite the company's resilience, it is not immune to market conditions.
Mr John said there had been a gradual increase in offshore work, but NHV, like others, is still feeling the pinch.
He said: "We are seeing a gradual increase in offshore activity. What I will say is that the pressure is still on us as suppliers for costs and pricing so we still have to be extremely competitive. We have to manage that and the offers that we put out to our customers.
"We're not out of the woods yet and we still have to cost-control our business as well as we can, to allow us to offer these solutions to our customers. To take another aircraft in, there's a huge cost implication to that so when you have the smaller contracts that maybe don't fill up an aircraft then it's very difficult for us to get approval for a new aircraft to come in. It's just about trying to work out some cost-effective solutions to our customers on that.
"We certainly see the market improving but the pressure is still on."
Recommended for you

Breaking: Unite and Bilfinger ask workers to stand down from North Sea strikes