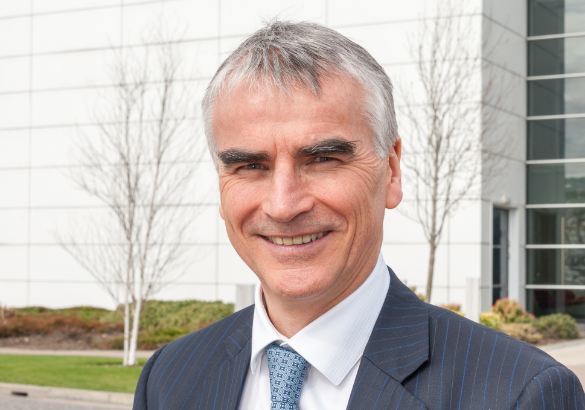 Total's UK boss believes the west of Shetland basin has a big future as the oil giant limbers up for more drilling.
Jean-Luc Guiziou, managing director of Total E&P UK, said he expects the firm to drill another "two or three" exploration wells in the region near term.
Mr Guiziou, who took on the role in April, also said infrastructure built at great expense by Total in Shetland was performing "very well".
Earlier this week Total revealed that its exploration well at Glendronach had uncovered one of the UK's biggest gas finds in a decade.
Mr Guiziou said Glendronach was a continuation of Total's "success story" west of Shetland, which he described as one of the major's "key areas".
An appraisal well will be drilled on the field next year to firm up initial estimates, which indicate that 1 trillion cubic feet of gas could be recovered.
Glendronach has all the attributes to be a "quality producer", Mr Guiziou said, adding that first gas by the end of next year was achievable.
"It is an important discovery," he said. "It's not a company maker, but it's a good opportunity.
"The discovery is in line with what trying to do, which is to unlock some additional resources which we can connect to our existing infrastructure."
About £3.5 billion was invested in a new gas plant in Shetland to accept production from the Laggan-Tormore fields 90 miles away via pipelines, making it the UK's longest "subsea to shore" developments.
The project was plagued by industrial action and cost over-runs, but the fields did eventually come on stream early in 2016.
A further £1bn investment culminated in first gas from the Edradour and Glenlivet fields, both of which use the Laggan-Tormore system, in August 2017.
Total intends to drill another well on Laggan next year to increase production from the field.
The Glendronach field will tie into the same system, as could a number of other prospects Total is targeting west of Shetland.
Mr Guiziou said Total had more acreage in the area and hopes to sanction another exploration well soon.
"Glendronach was on our exploration programme for 2018 and we have another well on the programme for 2019," he said.
"This needs to be formally agreed and signed off by our partners in the budget process, which we are now undergoing.
"So we have another exploration well planned for next year beyond the appraisal of Glendronach."
He added: "We see two or three exploration wells to be drilled in the coming two years in that region."
Total has a 60% stake in Glendronach and the Greater Laggan Area's four producing fields, while partners Ineos and SSE each have 20%.
Recommended for you

UK well slot: Orlov awaits after Edinburgh dud