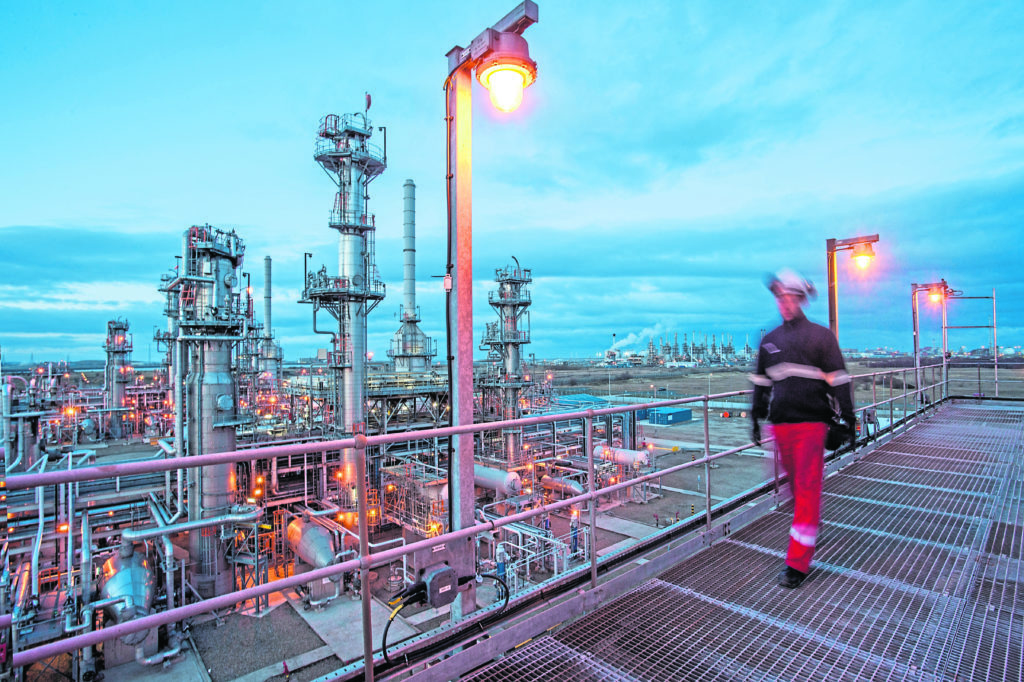 Pipeline and terminal owner CATS Management (CML) is on the lookout for the next opportunity to kick-start a North Sea project.
CML is a major cog in one of the most innovative greenfield arrangements in memory and boss Andy Hessell is confident similar models will have their place elsewhere.
Alongside Dana Petroleum, CML will pay for, build and own the Humber Gathering System (HGS), which will deliver gas from Premier Oil's southern North Sea Tolmount field.
HGS will comprise a platform and an export pipeline to the Easington gas terminal in East Yorkshire, which will require some modification.
Contractor ODE will be responsible for maintaining and operating the HGS platform and pipeline.
Partners sanctioned the project in August, with first gas expected at the end of 2020.
Mr Hessell, who spent more than 25 years with BP, said the deal structure was "a bit different".
He said: "Tolmount's different for us as infrastructure owners, because usually midstream companies buy existing assets.
"We are taking a step out and moving into greenfield construction, and you've got upstream and midstream owners working together in partnership."
Mr Hessell, who has taken up position with CML in the Silver Fin building on Union Street in Aberdeen, said the firm became involved about two years ago, at a time when Premier was assessing different development options and financing models.
Tolmount was a very attractive investment, but it was a tough time for Premier financially.
One way of getting the ball rolling was to bring in partners to help fund the infrastructure.
Mr Hessell said the last 12 months has been all about working with Dana and Premier to put the structure together.
He said the partners managed to "sort out the headaches", including the principles for bringing in third parties further down the line.
"We are now thinking about making the most of this piece of infrastructure," Mr Hessell said.
"There were a few hiccups, but we got there and signed all the agreements. Now we're focused on detailed engineering and working with contractors.
"Working with Premier and contractors gives us a lot of confidence in our model."
The company has quite a lot of pipelines in its portfolio and intricate owner-operator arrangements seem to be the norm.
Private equity firm Antin Infrastructure Partners owns its controlling stake in the Central Area Transmission System (CATS) via CML, its wholly-owned subsidiary.
Antin initially snapped up 62.78% of the system from BG Group in summer 2014 for £562 million.
The following year, Antin increased its stake to 99% through the purchase of BP's 36.22% interest in the system, which consists of a 250-mile pipeline running from the central North Sea to a terminal at Teesside.
The transaction paved the way for Mr Hessell to join CML, which chose Wood as the operator of the terminal and pipeline. Gas from Total's huge Culzean field will be piped to Teesside once production starts next year.
After taking some time to stabilise the business, Antin was on the acquisition trail again.
In December 2017, CML agreed to buy 65% of the Esmond Transport System (ETS) from Premier Oil, Centrica and Perenco.
ETS is made up of a 100-mile pipeline that transports gas from fields in the southern North Sea to the Bacton terminal Norfolk.
Perenco continues to operate the pipeline.
Mr Hessell said the ETS deal was a "good piece of business" involving critical infrastructure with a long life ahead of it.
It also showed the company is adept at multi-tasking, because CML would have been working on the Tolmount deal structure while also trying to close out the ETS purchase.
Mr Hessell said CML's sworn duty was to own and fully use infrastructure, letting exploration and production companies focus on subsurface work.
"Our job is to fill the infrastructure," he said. "We do not mind whose molecules we process. We want more of them.
"We want to fully use the infrastructure and let upstream owners find more gas."
He said CML would have no reservations about opening HGS's capacity to other users in future.
"I will be very happy if Dana and Premier fill the pipeline, as long as it's full," he said. "But I will be equally happy if half a dozen fields are connected in the next 15 years.
"We will do everything we can to fill the infrastructure. In 10 to 15 years you will be surprised by who connects into the system.
"No one expected that Culzean would fit into CATS. We design infrastructure to attract third parties."
Mr Hessell said a version of the Tolmount model could be repeated. The company is just waiting for the right opportunity to come along.
He said: "Do I know where that opportunity is at the moment? No. But I can envisage coming up with another way of doing that in the next five years.
"Antin is keen to keep investing in the North Sea. They've shown that by increasing their interest with CML buying 65% of ETS and investing in a key greenfield project in Tolmount.
"And we want to keep growing. The model has got its place. It's down to us to find where that is. I've got a couple of ideas about where it could work.
"We could do it on a smaller scale by expanding existing infrastructure, for example, another flowline from CATS, or by connecting something else within HGS, or it could be another completely new site.
"It's important to find the right characteristics. We are interested in critical infrastructure that has got some life left in it. It has to be material and with good growth prospects.
"We've got a good reputation for safe and reliable operations and supporting upstream companies to extend their fields, letting them get on with exploration and the subsurface aspect.
"It's Maximising Economic Recovery UK in action."
Recommended for you
X

'Oil and gas goals must sit alongside low-carbon agenda'