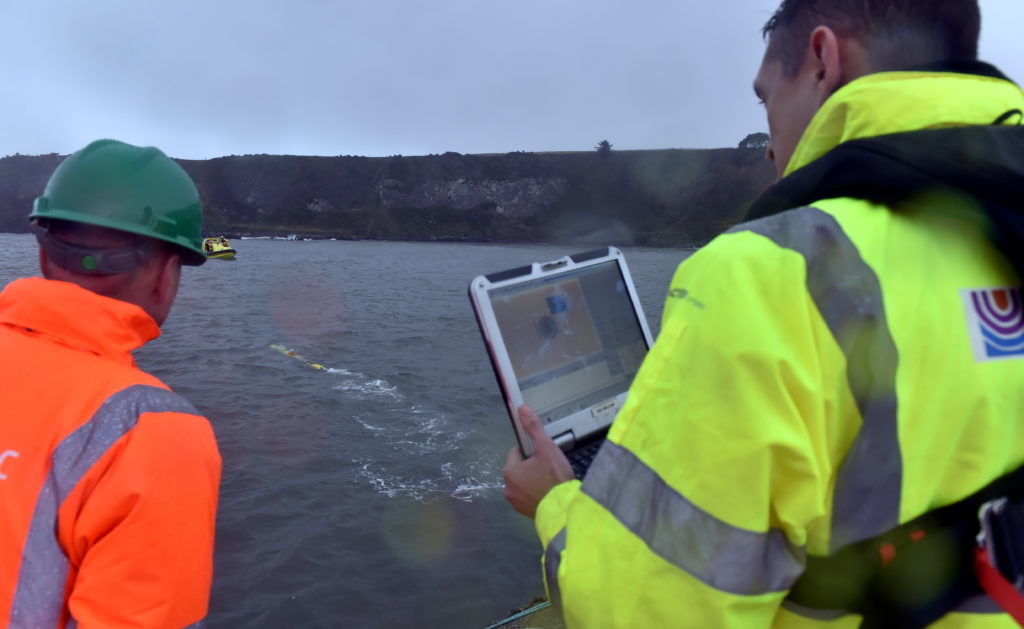 An autonomous subsea vehicle destined for the seas of West Africa was released into the waters off Stonehaven yesterday by Acteon subsidiary firm Utec.
The launch and recovery system (LARS) for autonomous underwater vehicles (AUV) took place in Stonehaven Harbour where the AUV went through final testing.
The vehicle will then journey to West Africa where it will carry out seabed pipeline inspection survey.
The 13ft-long, £1-million AUV is one of seven in the fleet we use for seabed surveys in the oil and renewables industries.
Trevor Pugh, Utec's global technical lead, said:"These devices are very good for seabed surveys and inspection. What you normally do is launch and recover it from a dedicated support vessel.
What's been missing was the ability to launch and recover it from a big vessel with a high freeboard."
"With traditional launch and recovery you need to be close to the vehicle. We wanted something where we could do the same sort of surveys we're presently doing but without needing a dedicated boat, now we can launch it with any type of vessel then continue on to a parallel activity."
Survitec Marine Training is providing the crane and support vessel for the LARS testing.
Asked why Stonehaven was chosen as the test location, Paul Smith, UTEC managing director, said: "Stonehaven Harbour provides sheltered water and good facilities close to our Aberdeen base and Stonehaven-based fabrication contractor. It is the perfect place to prove the potential of our new LARS to increases the range of work that we can do for clients with our autonomous survey vehicles."
Headquartered in Aberdeen, Utec has offices in Australia, Indonesia, Singapore, the United Arab Emirates, the UK and the USA, and employs more than 350 staff.
Acteon have a base in Aberdeen and a portfolio of subsea businesses that includes Aquatic, Claxton, J2 Subsea, Seatronics, Team Energy Resources and Utec.
Mr Pugh added that Utec have "letters of intent" in the region from firms in West Africa who "require the vehicle for pipeline inspection".
He added: "We want to be able to offer the vehicle with this launch and recovery system, which removes the need for a small boat from the equation."