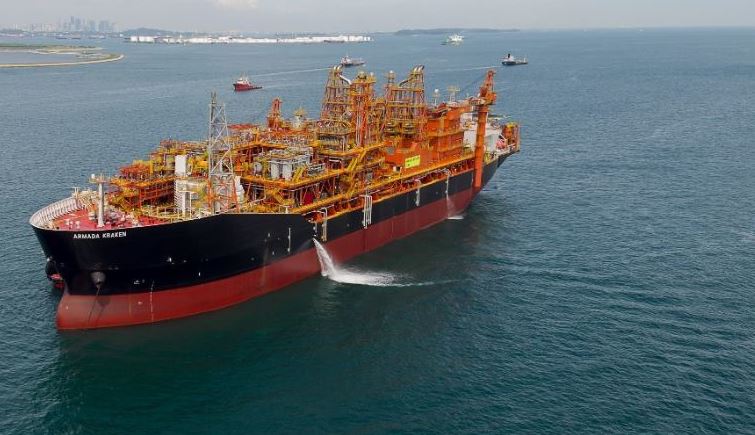 Malaysia's Bumi Armada has sunk to a £426million pre-tax loss which it largely blamed on impairment charges for the Kraken FPSO in the North Sea.
It has also announced a change in leadership, with CEO Leon Harland to be replaced by board member Gary Christensen (see below).
There were numerous delays in the production vessel at EnQuest's Kraken field reaching final acceptance last year, which Bumi Armada has been paying impairment charges for.
In its full year results, the firm revealed it has recognised charges of £296.6m (1.6 billion Malaysian Ringgit) for the Armada Kraken FPSO in 2018.
The company also paid charges of £108m relating to other offshore support vessels, with Bumi aiming to sell parts of its under-utilised fleet.
Excluding these impairments, Bumi Armada said it would have reported a £40.1m net profit for the year.
Last year, Bumi Armada signed an amendment to its original contract for the Kraken with EnQuest and its project partners, allowing it to progress to final acceptance "without being encumbered by historical events".
It set out a number of items that remained outstanding which Bumi is responsible for, including those to be completed after final acceptance, as well as an agreement on £11.3million to be paid to the Kraken partners.
The FPSO achieved final acceptance in September.
Chief executive Leon Harland said: "The group faced a financially challenging year in 2018, which was largely marked by the difficulties encountered on the Kraken FPSO and the ongoing low utilisation of our offshore support vessel fleet.
"As result, we have taken the impairments in both our floating production and offloading and offshore marine services businesses on a prudent basis and this has resulted in a substantial loss to the Group's bottom-line.
"Going forward, the aim is to complete the refinancing of the Group corporate debt in the near future, monetise assets and enhance the performance from Armada Kraken."
Full year pre-tax losses were £426m, down from a £91.2m profit at the end of 2017.
The Kraken FPSO, which has now been producing for over a year, made a positive contribution to Bumi's floating production and operation business which saw increased revenues.
Kraken, which lies about 80 miles east of Shetland, produced first oil in June 2017.
EnQuest has recently predicted a 20% production jump in 2019, despite the Kraken glitches.
NEW LEADERSHIP
On the same day as the results announcement, Bumi Armada said Mr Harland will be returning to his home country of the Netherlands for "personal reasons".
As a result he will not be renewing his term with Bumi Armada and will be replaced by Gary Christensen.
Mr Christensen has been a board member since May last year.
He will become executive director on March 27 and installed as CEO on May 16.
Mr Christensen has more than 35 years of experience in the industry, holding management positions with Tenneco, British Gas, Unocal and Santos in South East Asia and Africa.