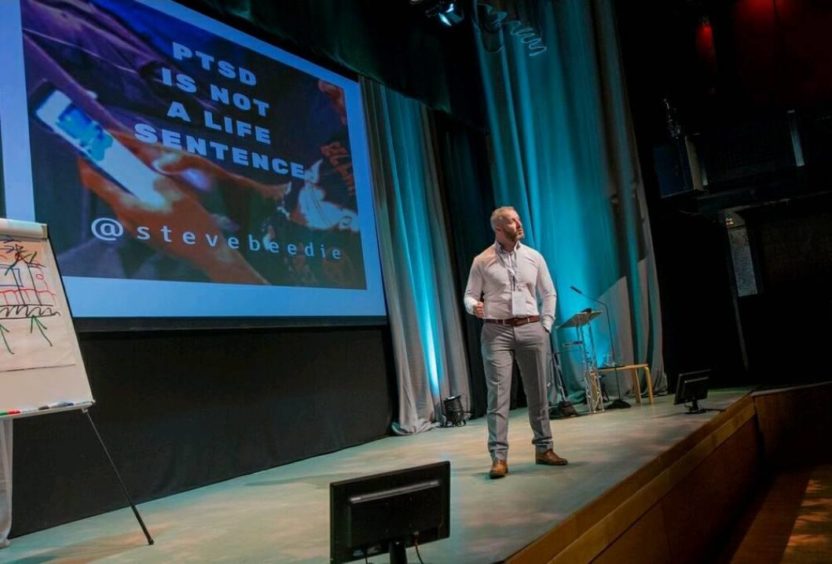 A former soldier is putting on an event this week to help address high levels of mental health "burnouts" in Aberdeen's oil and gas industry.
Steve Beedie, who was diagnosed with post-traumatic stress disorder (PTSD) after serving in Kosovo in the 90s, has worked offshore for the last 11 years.
In that time he has built up the "Unspoken Wounds" site, an online platform allowing people to discuss their struggles with mental health issues.
Mr Beedie, who works as a derrickman offshore, has had a particular focus on helping former armed forces personnel and fellow oil and gas workers.
The 38-year-old from Banff served in the army for nine years in war zones such as Iraq, and developed PTSD after seeing a child blown up by a landmine in Kosovo.
On Sunday July 7 he is putting on the first public Unspoken Wounds event, discussing his experiences in the army and offshore.
Despite improved societal awareness of mental health issues, and work within the industry to address some of the problems, Mr Beedie said a large portion of the oil and gas sector remains affected.
He said: "Burnouts are on the rise, I've heard from sources within a very large operator that this is burnout city. I've spoken to people who are just ready to quit and would rather go on the dole than deal with the issues they will have to face on the rig.
"These are individuals' opinions but we do work in a very pressurised industry that wants more done with less.
"There is massive pressure on all sides, whether you're an OIM (offshore installation manager), an executive in the office or a new start offshore.
"If that is not dealt with in an intelligent and empathetic manner, it is going to lose control and it is going to pop."
The event will take place at the Westhill Holiday Inn this Sunday evening, with around 80 people expected to attend.
Mr Beedie said the "Live and Uncut" session will look to strip back stigma on speaking out on mental health issues.
He added: "It's about reaching peoples' hearts and saying we need to talk about the real things.
"I'm sharing my experiences through the army and my time working offshore, seeing people that I've lost and how that has affected me and my family.
"This is about stripping the stigma around mental health in a very open and candid way."