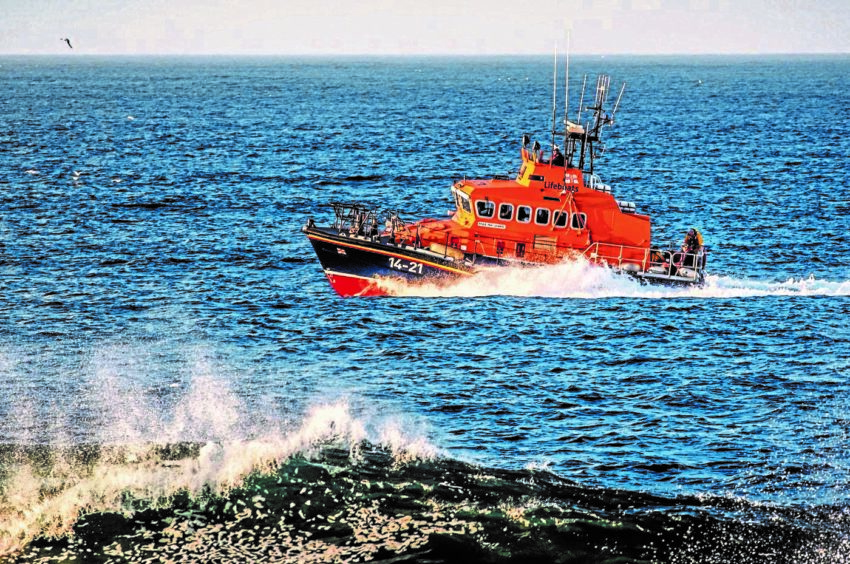 A major search and rescue operation was launched yesterday amid fears that a man had become lost at sea.
Coastguard teams received a "man overboard" signal from a distress beacon off the coast of Fraserburgh at around 3pm.
But while this initial transmission sent the device's GPS co-ordinates, no further messages followed to help rescuers track his location.
Teams from across the north-east quickly deployed to scour the area in the hope of finding the individual.
RNLI lifeboats were despatched from Fraserburgh, Banff and Macduff, while Coastguard crews from Fraserburgh, Banff and Peterhead were also sent to the scene.
In addition, the Coastguard search and rescue helicopter in Inverness was paged to fly overhead and search for any signs of someone struggling in the water.
Word was also spread quickly to all other vessels in that area of the North Sea. Mayday relay broadcasts were sent from the Coastguard asking shipping workers to keep a "sharp lookout" for anything that may have sent the initial distress call.
However, after three hours of intensive searching, the rescue teams were stood down.
The Coastguard said that no further "man overboard" signals had been received and nothing had been spotted in the water.
It said crews had been recalled "pending any further investigation".
Questions still remain over what triggered the distress call.
Rumours had spread among people along the coastline that it may have been linked to a fall from a North Sea oil rig, but these were refuted by energy sector officials.
A spokeswoman for the Coastguard said: "At 3pm today, HM Coastguard received a DSC distress alert from a man overboard beacon off the coast of Fraserburgh.
"Mayday relay broadcasts were made to other vessels in the area asking to assist in keeping a sharp lookout and to contact Aberdeen Coastguard if they have any information.
"There were no further signals following the initial alert at 3pm.
"Following an extensive search of the area all teams were stood down at approximately 6pm pending further information."
Recommended for you

Aberdeen man who died following South Harbour accident named locally