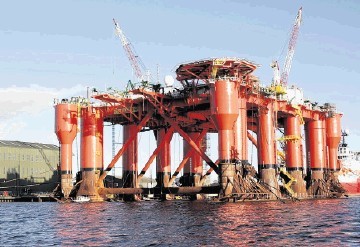 The Borgland Dolphin rig is preparing to mobilise to drill an exploration well on i3 Energy's Serenity field.
The rig has finished drilling a pilot well on i3's Liberator field in the outer Moray Firth.
The purpose of the pilot well was to help i3 work out the best location for the first production well on Liberator, which is expected to be drilled next year.
Drilling on Serenity, the second in a three well campaign, will get under way once the necessary permits are obtained.
In the meantime, the rig has been downmanned to minimise standby costs.
London-listed i3 believes Serenity could be developed as an extension of the neighbouring Tain discovery, operated by Repsol Sinopec Resources UK.
I3, based in Westhill, near Aberdeen, will follow up Serenity with an appraisal well on the Liberator West extension.
All three targets are in the Greater Liberator Area, wholly-owned by i3 and holding an estimated 200 million barrels of oil in place.
Majid Shafiq, chief executive of i3, said: "Serenity is a high value exploration target and an exciting opportunity for i3 Energy and its shareholders.
"The structure itself is entirely separate from Liberator and will add significantly to the company's resources in a success case."
"Drilling the Serenity well ahead of LA-03 will provide the necessary opportunity to process our findings from well 13/23c-9.
"We look forward to updating shareholders on further progress in due course once the permitting for the Serenity well has been completed."
Recommended for you
3T's Drilling Systems clinches well simulator gig with Petronas