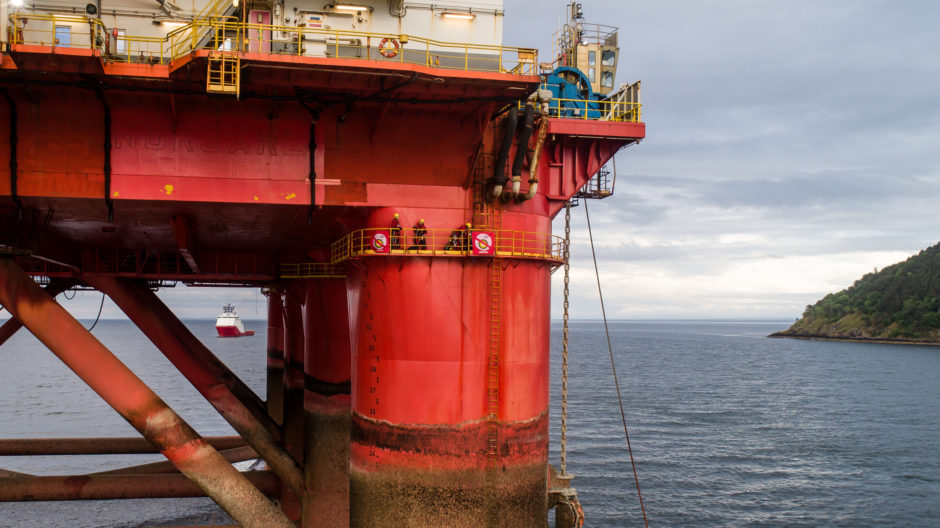 Five Greenpeace protesters who occupied an oil rig for almost four days costing the operators and the taxpayer more than £500,000 have been spared a jail sentence.
Environmentalists scaled the TransOcean-owned vessel Paul B Loyd, which was berthed in the Cromarty Firth in June ready to sail out to BP's Vorlich North Sea oilfield.
But the journey was halted when the activists chained themselves to the rig from June 9 to June 13, leading to a major police operation to remove them from the platform.
Yesterday at Tain Sheriff Court, 53-year-old Joanne Paterson, of Knockburn, Munlochy, 52-year-old Andrew McParland, from Epsom in Surrey, 50-year-old Peter Chan, from Reading in Berkshire, 39-year-old Meena Rajput, from London, and 35-year-old Thomas Johnstone, from Rhos-on-Sea in Wales, appeared for sentence.
All five admitted disorderly conduct when they appeared in court in July and sentence had been deferred for background reports.
The three men were each ordered to complete 135 hours of unpaid work, Paterson 100 hours and Rajput 80 hours.
Sheriff Olga Pasportnikov told them: "I may or may not have sympathy for your beliefs. But that is for another forum. A criminal act was committed here.
"What concerns me is that the RNLI and the coastguard were taken away from a possible legitimate emergency elsewhere. We have all sorts of terrorist acts these days and some people on the rig would not have known this was a benign action."
Sheriff Pasportnikov heard that the protesters that had been removed in one recovery operation were replaced by others, who also had to be taken off by a police rope access team.
A helicopter, the RNLI lifeboat, coastguard and Cromarty City Port Authority staff were all on standby in case of an emergency rescue, adding to the final bill. It was estimated it cost the operators £120,000 a day and BP an unknown amount, and the police operation cost £140,000.
The charge against the activists stated that they boarded an oil platform without permission or lawful authority, refused to leave, attached themselves to said platform by tethers or chains, placed themselves and others in potential danger and prevented persons going about their business between June 9 and 14.
The court heard that most of the rig's 99 crew were confined to their quarters for the duration of the occupation because the master of the vessel did not deem it a safe situation.
The police also felt it was "a life-threatening situation".
The court was told that when the platform was boarded the second time it was in the process of raising anchors which were swinging loosely.
Solicitor Jim Bready, representing the protesters, said: "These people are well-trained and conscious of the safety of themselves and others.
Recommended for you

Video shows view from the top of huge Aberdeen oil rig