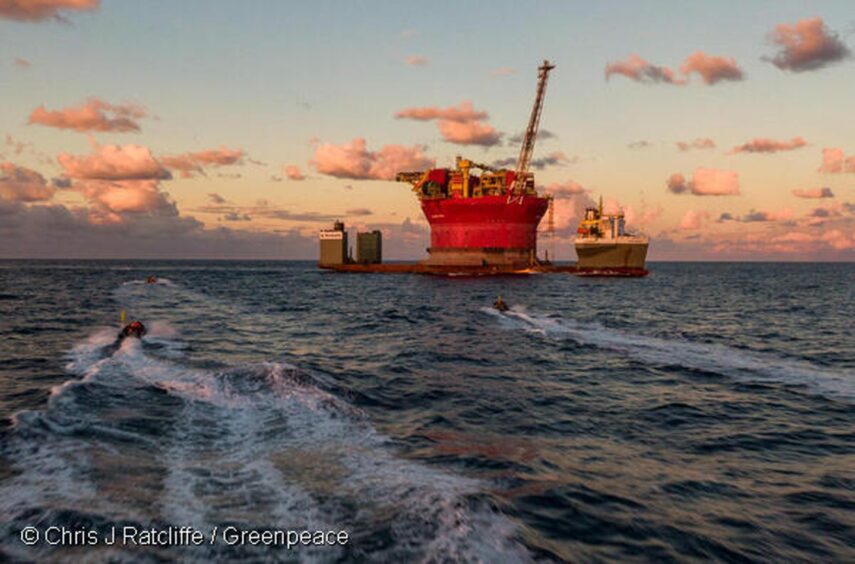 Shell (LON: SHEL) has threatened Greenpeace with a multi-million-dollar lawsuit over a protest held on one of its UK North Sea assets this year.
Activists boarded the Penguins FPSO, due to become Shell's first new manned vessel in UK waters in 30 years,while it was in transit from China, north of the Canary Islands.
Documents seen by Energy Voice show the oil major and its contractor Fluor have threatened to sue for $8.6m after activists boarded the Penguins FPSO in January.
A total of $2.1m of the headline figure comes from Shell, with the remaining $6.5m being sought by contractor Fluor from either Shell as payment, or via the Greenpeace suit.
Shell has said it would settle for $1.4m if Greenpeace agreed to never attempt to board, damage, interfere with or obstruct "any other Shell equipment, installation, asset or vessel" at sea or in port going forward.
In January, Greenpeace said its action, which came ahead of Shell reporting a record $64.8bn pre-tax profits for 2022, was seeking climate reparations.
Shell later hit the protestors with injunctions against two Greenpeace vessels to prevent more activists boarding, but the NGO used other vessels to bring on other protestors.
A judge at the time said the protestors were putting "their lives and, indirectly, the lives of the crew at risk" by boarding the vessel.
Shell said the right to protest is "fundamental" but it must be done "safely and lawfully".
It added: "Boarding a 72,000 metric tonne moving vessel at sea was unlawful and extremely dangerous."
The firm said the legal costs of the court injunctions were "significant", as was the cost for companies who had to deal with the action at sea.
"The safety of the protestors – as well as the crew – was paramount. Rightly, we did not hesitate to put in place measures to protect all people involved. Shell and its contractors are entitled to recover the significant costs of responding to Greenpeace's dangerous actions."
North Sea court action
This is the latest in a run of court action involving Shell and Greenpeace.
In 2019, London-listed Shell won a court order preventing environmentalists from going within 500 metres of its unmanned North Sea installations after protests at the Brent oilfield off Shetland.
Greenpeace has meanwhile launched a legal challenge against the UK Government over approval of the Jackdaw project, a Shell gas development off Aberdeen.
On the latest Penguins lawsuit threat, Greenpeace said it would agree to such a protest ban "if Shell agreed to stop wrecking the climate – by complying with the Netherlands court order requiring the company to reduce its emissions by 45% by 2030, relative to 2019, across all activities".
Shell has been criticised for a shift in focus under new CEO Wael Sawan back towards more lucrative fossil fuels, rather than low carbon measures – where Shell is cutting jobs –  including criticism from within the business.
However the oil firm maintains its plan is to invest £25bn in the UK energy system this decade, 75% of which is intended for low and zero-carbon technologies.
Areeba Hamid, co-executive director of Greenpeace UK, said: "Sawan's ditching green policies, sacking former colleagues from his renewables division, and he's gas-lit the world by claiming a retreat from fossil fuels would be 'dangerous'.
"Now he's trying to crush Greenpeace's ability to campaign, and in doing so, seeking to silence legitimate demands for climate justice and payment for loss and damage. We need this case to be thrown out and for Shell to be regulated by the government because it's clear Sawan is hell-bent on profit, regardless of human cost."
Penguins
Penguins, 150 miles north-east of Shetland, is a redevelopment of a former tie-back field to the Brent Charlie hub.
A total of eight wells drilled and tied back to the newbuild floating production storage and offload vessel (FPSO), which launched from China last year.
The vessel is currently laid up in Norway – Shell says it expects the FPSO to be on site in the UK next year.
Shell said the vessel will support energy security and help stem decline of domestic production.
It added: "Projects like Penguins are vital to that supply and help reduce the UK's reliance on higher carbon and costlier energy imports. Locally-produced, responsible oil and gas production is critical for UK energy security and entirely consistent with a net zero pathway as modelled by the UK's independent Climate Change Committee."
Recommended for you

Interview: Anasuria on 'exciting' first year as North Sea duty holder