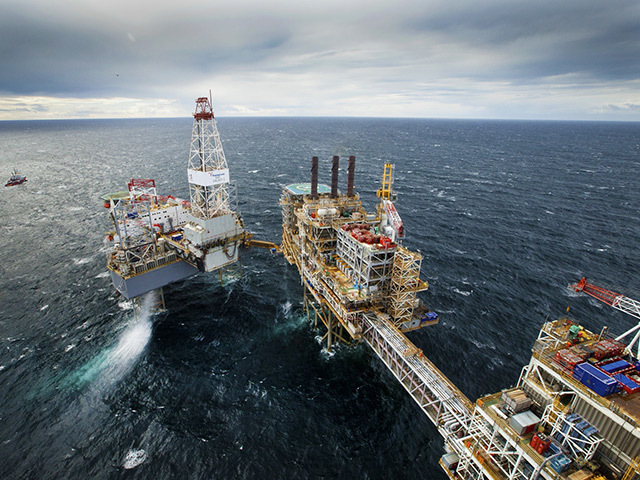 The North Sea's largest-producing oil field has been shut down for the second time in a month after a pipework repair was found to be "compromised".
Operator Cnooc confirmed on Thursday night that its Buzzard oil field has been shut down.
Buzzard, located around 60 miles north-east of Aberdeen, was first shutdown on October 4 after a defect was found during an inspection.
It restarted production last Sunday.
The asset was shutdown again on Wednesday after it was discovered that the repair work on the topside pipe was not sufficient.
The Buzzard field is the largest contributor to the Forties crude oil grade and the largest producing asset in the North Sea, pumping around 150,000 barrels of oil per day.
A spokeswoman for China-owned Cnooc Petroleum Europe Limited, a wholly-owned subsidiary of China National Offshore Oil Corporation (Cnooc), confirmed the temporary shutdown of the installation at around 9:05am on October 16.
She added: "A defect on topsides pipework was repaired last week and production safely restarted.
"A routine follow-up inspection identified that the integrity of the repair was subsequently compromised.
"There is no harm to people, the environment or the asset.
"An alternative repair option is being progressed. Normal operations are expected to resume once the repair is complete."
Buzzard is the largest UK producer in the according to the Oil and Gas Authority's website, followed by BP's Schiehallion field.
Discovered in 2001, it is one of the largest finds in UK waters of the last two decades and started production in 2007.
Cnooc holds a 43% stake in Buzzard.
Between its operations in the UK and Ireland, Cnooc employs around 600 people offshore and in onshore administration roles.
Cnooc, formerly Nexen UK, announced in June it was "actively assess opportunities including the acquisition of additional exploration and production acreage" in the UK North Sea.
The firm officially changed its name from Nexen to Cnooc International this year, despite being acquired by Cnooc in February 2013 in a £9.4billion deal.
A recovering oil price drove a boost to profits for Cnooc's operations in the UK and Ireland last year.
Cnooc Petroleum Europe showed pre-tax profits of £1bn, up from £767.6m in 2017.
Revenues were £1.575bn, up from £1.48bn, while total comprehensive income was £628.5m, up from £450.5m.
Cnooc's share of production at the Buzzard field, dropped from 62,800 barrels per day to 49,500, following a lengthy shutdown for the field at the end of the year.