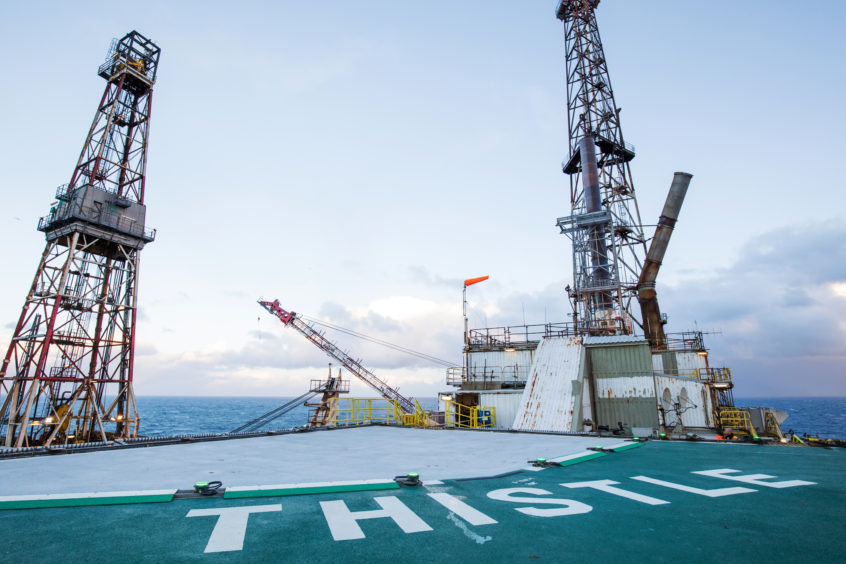 An offshore union has called for a "robust inspection regime" to be imposed after more than 100 workers were evacuated from a North Sea platform over structural concerns.
RMT described the speed at which the Thistle Alpha, 125miles off Shetland, was down-manned on Monday as "unprecedented".
General secretary Mick Cash said it suggested a "serious problem" and that any inspection regime by the Health and Safety Executive (HSE) "failed to identify an issue until it became critical".
The HSE confirmed it is investigating and will encourage EnQuest to provide information "if any important safety matters arise that should be shared".
A spokesman added that the issues at present appear to be specific to the Thistle platform.
Workers were evacuated following a "subsea structural inspection" on Monday, which operator EnQuest confirmed last night was related to a "support element" of a redundant subsea storage tank.
All 115 crew members were taken off the installation by helicopter, with the majority going to the nearby Dunlin platform and eight others being taken to Shetland.
Mr Cash said: "RMT has had concerns for some time about the impact of cost cutting and we would hope the HSE will seek to establish whether a robust inspection regime existed and if not, why not?
"For the workers, their families and all affected by these events we need to know what is being done to remedy the problem and what the future holds for the workforce.
"We expect all workers to remain on full pay and for extensive consultations to commence on what has happened."
EnQuest also confirmed yesterday that all workers were being flown ashore and the platform will remain in shutdown until remediation work takes place.
North Sea manager for the firm, Bob Davenport, said: "The safety of our people is our absolute priority. Our offshore installation manager took proactive action to transfer everyone from the platform as a precaution following yesterday's inspection.
"This was carried out safely and quickly, with plans then made for their onward travel home. Further inspection work will be conducted and the platform will remain shut down until that has concluded and any necessary remedial action undertaken.
"I'd like to thank everyone involved for their support including the team onboard Dunlin, employees, contractors and the Maritime Coastguard Agency."
The firm did not provide an estimate of how long the remedial work could take.
RMT regional officer Jake Molloy called for any learnings from EnQuest's investigations to be shared widely.
He added: "This is an opportunity for EnQuest to step up and do that whole learning piece which the industry says it promotes so much.
"There's lots of old steel jacket structures out there so if there's learnings to be gained from what's happening with Thistle then let's get it out there and share it with industry."
An HSE spokesman said: "HSE is aware of the evacuation on the Enquest Thistle platform.
"The installation operator is assisting our Inspectors with initial inquiries.  Lines of inquiry are being identified, but HSE does not comment about ongoing investigations.
"We will encourage EnQuest to provide information if any important safety matters arise that should to be shared, but at present the issues appear to be specific to the Thistle platform."
This is one of the few occasions that a platform has been down-manned due to structural concerns.
In 2017 CNR International's Ninian South was evacuated ahead of a storm "to safely manage the structural integrity of the Ninian Southern jacket".
That year Repsol Sinopec Resources UK (RSRUK) also agreed to suspend output from the now-decommissioned Buchan Alpha platform as the HSE had concerns about fatigue in the rig's legs.
Recommended for you

HSE warning after near collision between ship and Perenco North Sea platform