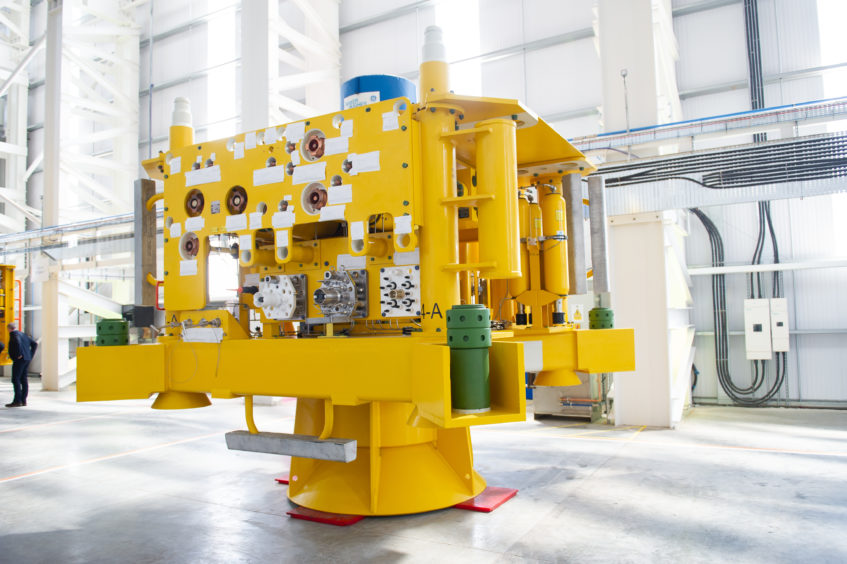 An oilfield equipment deal between two US firms will bring millions of pounds worth of work to the north-east.
Energy technology firm Baker Hughes has clinched a contract to provide a range of subsea kit and services for Apache's North Sea business.
The value of the deal was not disclosed by the two Houston-headquartered companies, but it is understood to be worth somewhere between £23.5 million and £47m.
Apache will use the "Christmas trees" and wellheads to support its exploration and development activities in the North Sea over the next three years.
Project management and engineering will take place in Aberdeen and manufacturing will be carried out at Baker Hughes' enlarged base in Montrose.
Baker Hughes said the agreement further strengthened the "existing collaboration" between the two companies.
Romain Chambault, director of Baker Hughes' European oilfield equipment division, said: "We are pleased to continue our long-standing partnership with Apache in the North Sea, to support their on-going and future development campaigns, and remain a strategic partner to optimise their efficiency and production results."
The award is the latest signal of Apache's commitment to the UK North Sea at a time when other North American operators are selling up.
In September, Apache handed out three life-of-field contract extensions to PD&MS Group, Global Engineering & Construction (E&C) and Wood Commissioning Services.
The deals were for design, engineering, procurement, construction and commissioning services on two of the North Sea's household names – the Forties and Beryl fields.
The contract with Global E&C was understood to be worth in excess of £100m.
Baker Hughes unveiled its revamped campus in Montrose with great fanfare in June, hailing it as one of the most advanced facilities of its type in the world.
It invested £31m in a new 43,055sq ft building and expanded warehouse space at the so-called centre of excellence. The project was supported by a £4.9m grant from Scottish Enterprise.
At the time, Baker Hughes said the investment had created at least 160 new jobs in Montrose, exceeding initial targets and taking the total headcount at the facility to around 560.
A spokeswoman for Baker Hughes said today that the figure had since grown to more than 600.
At the official opening, Neil Saunders, chief executive of Baker Hughes' oilfield equipment business, lauded the Angus site as the "embodiment" of the firm's new "subsea connect" strategy, which is a way of doing business that slashes costs, increases productivity and a simplifies subsea development for customers.
The cornerstone of the strategy is the modular, lightweight Aptara subsea production system, which is designed and built in Montrose.
Under the proposals for the centre of excellence in Montrose, the firm's operations at Broadfold Road in Bridge of Don were ceased and moved to the Angus town.
Baker Hughes will see the Apache deal as a vindication of that decision and its investment in Montrose.
The firm did show further commitment to the north-east by spending £3m on the refurbishment of its premises at Stoneywood Park North, Dyce.
Last year Baker Hughes moved more than 400 people into that building, which had been empty since 2016.
Baker Hughes currently employs about 2,000 people across nine locations in Aberdeen city and shire, including Altens, Portlethen and Inverurie.
Last month, the company rebranded itself to mark its independence after more than two years of being majority-owned by US conglomerate General Electric (GE).
During that period, the business was called Baker Hughes, a GE company (BHGE).
Recommended for you

Private equity deals surge to £2.4 billion for UK North Sea