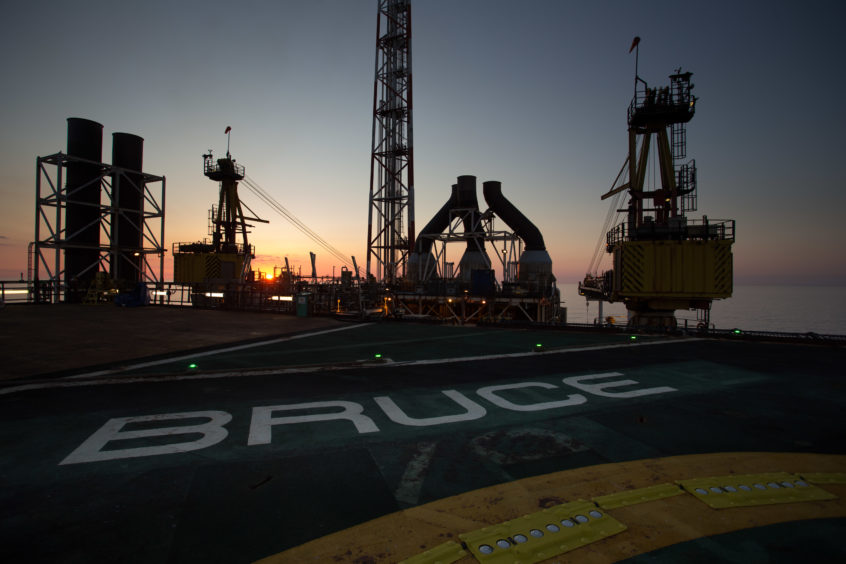 Serica Energy's boss has said the gains squeezed by his team from North Sea fields acquired a year ago show smaller companies can be more efficient.
Chief executive Mitch Flegg said Serica cut operating costs and flaring by 30% while producing 10% more gas at the Bruce, Keith and Rhum (BKR) fields.
Serica completed the acquisition of stakes in the BKR package in late November 2018, more than a year after the initial agreement was signed with BP.
The hold-up was due to Serica's ultimately successful efforts to obtain a US sanctions waiver for the Rhum field, which is part-owned by Iran.
The purchase of stakes in the Bruce and Keith fields from Total, BHP Billiton and Marubeni hinged on the BP deal getting over the line.
Combined, the four deals gave the firm 98% of Bruce, 100% of Keith and 50% of Rhum.
As part of the agreement, more than 100 people joined Serica, which now has a headcount of about 70 people, including contractors, at its base in Aberdeen, and similar numbers offshore.
Last night Mr Flegg said he was "very pleased" Serica had enhanced production "without drilling new wells or changing anything in the reservoir".
The key to early success was a team fully focused on the Bruce complex.
He said: "We can respond to problems more quickly and prevent them from happening. We're keeping the infrastructure working for more of the time than the previous owner. That's not a criticism. We're working with a smaller, focused team. Everyone is 100% focused on uptime on BKR…so we can make decisions more quickly."
Next year's plans include re-entering a third production well on Rhum.
Drilling should start in late 2020 or early 2021.
A development well on the Columbus field should also be drilled in the fourth quarter of 2020.
Columbus is being developed as a single well connected to a planned pipeline between the Arran field and Shell's Shearwater platform.
Serica operates and owns 50% of Columbus. Its partners are Tailwind Energy and Waldorf Production.
Supply chain capacity concern during Forties shutdown
Mr Flegg said access to oilfield services during next year's shutdown season was a "concern" for the North Sea industry.
But Mr Flegg said the closure of the Forties Pipeline System (FPS) would not be a major threat if the sector prepares properly.
FPS opened in 1975 and transports about 40% of UK North Sea oil and gas to shore.
Pipeline operator Ineos announced in February it would invest £500 million in extending the life of FPS by at least 20 years.
It is understood it must shut down for several weeks in mid-2020 to allow work to take place.
Bruce and Rhum are gas fields, but Serica exports oil from Keith via FPS and Mr Flegg said the shutdown was a "good opportunity" for Serica to carry out maintenance work on Bruce, extending the life of the installation.
Many operators whose platforms use FPS are expected to try to undertake maintenance activities while it is out of action.
But the oilfield service sector has less capacity than before the downturn which struck in 2014, prompting company failures and widespread redundancies.
Asked if he was concerned about the prospect of being unable to secure the required services, Mr Flegg said: "That's clearly a concern for the industry, but we have had a team working on planning our activities for some time and working with our contractors and suppliers.
"So while it is a concern, it's something we have been working on. It won't be a major threat if we prepare properly. We're going to be ready."
Recommended for you

Serica Energy balances buoyant results with 'wholly unwelcome' windfall tax