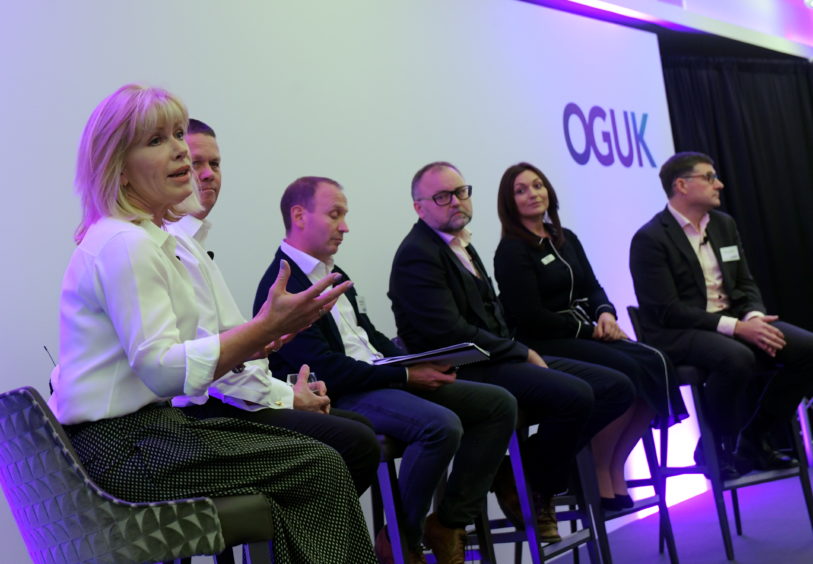 An innovative North Sea equipment sharing scheme devised to save companies time and money on ordering new gear could be revived next year.
The prospect was raised at the Aberdeen launch event for a survey focusing on collaboration in the UK offshore oil and gas industry.
The study showed that companies' efforts to work together more efficiently had taken a small backward step in the last year.
During a panel session, Steve Phimister, vice president of UK upstream at Shell, said he regretted that the sector still had "huge barriers" to establishing a "common inventory" system.
Mr Phimister said too many businesses were clinging to the idea that they need to own and control their own stock. As a result, companies are having to accept long waits for replacement components.
Richard Beattie, chief executive of Anasuria Operating Company, said his firm was losing 5% production from its North Sea asset due to a fault with a component and was faced with a seven-month wait for a replacement.
Oil and Gas UK (OGUK) chief executive Deirdre Michie pointed out that the industry body had tried to implement the idea of a common parts inventory before.
In March 2016, OGUK said five operators were sharing 200,000 items via an online trading platform as part of a pilot project.
But Ms Michie said the scheme did not become fully fledged because inventory was a "really competitive space".
She said companies were reluctant to put tools in a common pool, preferring to keep hold of equipment "just in case".
Ms Michie said: "It is incredibly difficult but that should not be a reason for us not to do it. If there is a will and a requirement, we will pick this up next year."
The oil and gas industry's reputation for being unwilling to try out new technology was also discussed.
Chrysaor chief executive Phil Kirk said the sector's "unforgiving" nature meant taking risks was a struggle.
Mr Kirk said: "It is difficult because of the amount of capital involved. We're not a forgiving industry. I know people whose careers have been marked by one failure 15 years ago, so it is difficult, but we're getting better."
Mr Kirk said the survey by OGUK and Deloitte showed the sector had plateaued in terms of collaboration, but can still improve.
He believes blame should be laid at the door of industry leaders and urged them to prioritise action over target setting.
Martin White, of Halliburton, accepted that larger suppliers had to work better with smaller energy service companies.
Mr Phimister remarked that collaboration had "flatlined" and that the best opportunity for improving matters lay in greater collaboration within the supply chain.
Sian Lloyd-Rees, of Aker Solutions, suggested the oil and gas sector was more "inward looking" than other industries.
In an emailed statement, Sir Ian Wood said he was "surprised" the survey indicated collaboration had dipped, possibly due to "increasing attempts to involve the supply chain".
But Sir Ian, who made collaboration a key recommendation in his 2014 review of UK oil and gas production, is confident industry is moving in the right direction.