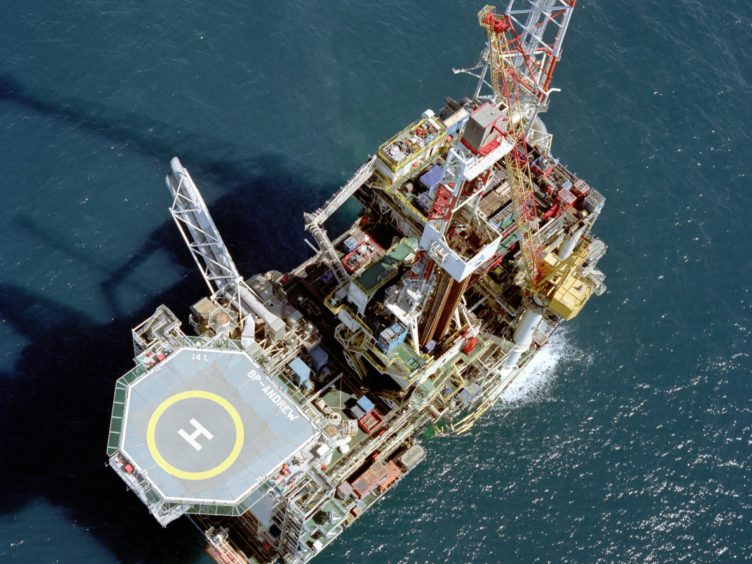 Energy giant BP has struck a deal to sell £475 million worth of North Sea assets to Premier Oil.
The sale includes BP's stakes in the central North Sea Andrew and Shearwater fields and forms part of its wider £7.6 billion divestment programme, to be completed this year.
BP, which reported net debt of £35bn at the end of September, recently sold interests in the Magnus, Bruce, Keith and Rhum fields in the northern North Sea.
Perhaps anticipating questions about its commitment to the UK, BP pointed out that it increased its equity in the Clair field following a deal with ConocoPhillips in 2018.
London-headquartered BP delivered first oil from the Quad 204 and Clair Ridge projects, which required huge investment, in 2017 and 2018.
The company is also working on several projects, including Alligin and Vorlich, to deliver additional resources from fields near existing infrastructure. And a third development phase of the Clair field is being considered.
BP's North Sea boss Ariel Flores said the firm had been "reshaping" its UK portfolio to focus on its "core growth areas", including Clair and Quad 204, located west of Shetland, and Etap in the central North Sea.
BP also operates the Foinaven field, off Shetland.
Mr Flores added that Andrew and Shearwater would be a "better fit" for Premier Oil, which also revealed proposals to acquire further stakes in the southern North Sea Tolmount area yesterday.
The Andrew area consists of five fields producing through one platform, about 140 miles north-east of Aberdeen. It started producing in 1996 and pumped out 25-30,000 barrels per day last year.
BP currently owns 62.75% of Andrew, 100% of Arundel and Cyrus, 67% of Farragon and 77.06% of Kinnoull.
About 70 employees will transfer to Premier as part of the deal, expected to go through by the end of the third quarter.
BP has a 27.5%, non-operated stake in Shearwater, run by Shell.
BP said it may have to adjust its target of growing North Sea production to 200,000 barrels per day, but insisted the basin still represented a "material business" for the firm.
The oil major's North Sea business supports 1,175 employees and holds around 2bn barrels of resources.
DANA DEAL
Premier Oil extended its new-year shopping spree with a deal to boost its ownership of a southern North Sea project.
London-headquartered Premier will pay Dana Petroleum up to £185 million for a further 25% of Tolmount, taking it to 75%.
Premier and partners made a final investment decision on Tolmount in August 2018, having brokered an innovative infrastructure pact.
An infrastructure joint venture between Kellas Midstream and Dana agreed to own and pay for a platform and pipeline, and for upgrades to the Easington terminal.
For its part, Premier would pay a tariff for the transportation and processing of Tolmount gas.
Premier is targeting 500 billion cubic feet (bcf) of gas from the main Tolmount field, which is expected to come on stream by the end of this year.
The area has considerable future potential. In October Premier celebrated a drilling success on an eastern extension of the area, Tolmount East, which could yield a further 220 bcf.
The firm has also identified Tolmount Far East and the nearby Mongour discovery as potential targets.
A spokesman for Korea-owned Dana, which will retain 25% of Tolmount, said the Aberdeen-headquartered firm was "fully committed" to Tolmount, describing it as a key asset.
OPPOSITION
Premier Oil's largest creditor has threatened to "vigorously" oppose the firm's plans to extend credit facilities to 2023 and buy North Sea assets for up to £660 million.
Asia Research and Capital Management (ARCM) said it was "deeply concerned" by Premier's move, which would "only serve to increase risk for stakeholders".
ARCM argued Premier should sell off assets to reduce its £1.5 billion debt pile.
It's understood ARCM is preparing a legal challenge to Premier's efforts to seek lender consent via two court-approved "schemes of arrangement".
Premier previously extended maturities to 2021 as part of a complex refinancing completed in 2017.
Premier insisted the BP and Dana deals were a "highly attractive opportunity" to strengthen in the North Sea.
The firm, which will take on BP's financial responsibility for decommissioning the assets, believes cash flow from Andrew and Shearwater will accelerate its debt reduction efforts.
The deal adds about 23,000 barrels of oil equivalent per day of production and 82m barrels of reserves to Premier's portfolio.
It will fund the acquisitions with a £380m equity raise, existing cash resources and an "acquisition bridge facility" of £228m.
The reaction of Premier's shareholders was positive. Shares were up by more than 16% to 117.75p by market close in London yesterday.
It's doubtful ARCM will have sufficient clout to derail Premier, which said most creditors had already committed to approving the schemes.
Stuart Lamont, investment manager at Brewin Dolphin Aberdeen, said the acquisitions appeared to be "reasonably priced".
Mr Lamont added that the proposed credit facilities extension would have played a part in Premier's share price rise.
Mike Tholen, upstream policy director at Oil and Gas UK, said Premier Oil's transactions demonstrated the "continuing confidence" in the industry.
Mr Tholen said the deals showed that "improving competitiveness in the UK North Sea was attracting commercial interest from a diversity of operators, each bringing their own innovative approach to deliver sustainable development".
Recommended for you

Oil majors near concept-select for electrifying North Sea platforms