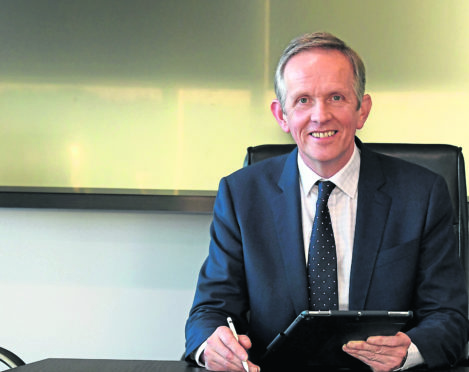 An oil and gas industry veteran is getting ready to put his "shoulder to the wheel" in the search for funding for his latest North Sea venture.
Alan Curran founded Ortus Petroleum just days after leaving Aberdeen-based Verus Petroleum, which was backed by Norwegian private-equity firm HitecVision.
HitecVision financed a series of acquisitions for Verus. The biggest and most recent was the £300 million purchase of Cieco Exploration and Production (E&P) UK from Japanese corporation Itochu in September 2018.
That took Verus' production to about 18,000 barrels of oil equivalent (boe) per day.
HitecVision then launched Neo Energy, which teamed up with Oman's Petrogas in July to agree the acquisition of a package of UK offshore oil and gas assets from Total.
Clearly HitecVision didn't see the sense in having two UK North Sea oil and gas exploration and production businesses.
The answer was to merge Verus with Neo Energy in a move heralded by a flurry of notifications from Companies House one afternoon in October.
Mr Curran is pleased with how his spell at Verus finished and remains on "constructive terms" with HitecVision.
He said: "HitecVision were delighted with what we achieved and I am delighted with the outcome, though you'll not extract the settlement fee from me.
"Verus was a five-year adventure. We had tough times at first, but once we got our house in order we did amazing stuff. I am proud of what we achieved."
However, Mr Curran is a competitive man and does harbour a sense of "unfinished business".
He will scratch that itch with Ortus, which means "sunrise" in Latin.
Ortus will be an oil and gas company focused on north-west Europe, with a buy-and-build strategy – much like Verus.
Along with finance director Colin Christie, Mr Curran has been "pounding the streets of London", having conversations and seeing what funding might be available.
At present, they are self-funding their "scouting trips and recon missions".
Once he gets funding lined up, Mr Curran will be able to build a strong team.
In a year, he hopes to be looking back on a successful first 12 months, with an office in Aberdeen and a "badge over the door".
The noises coming from industry suggest backers for oil and gas explorers and producers are getting harder to find as the severity of the climate emergency dawns on people.
Mr Curran feels the climate change conversation is very emotional, if not hysterical at times, but expects the discussion to gradually stabilise, becoming more measured.
He is fairly confident financing for oil ventures is out there if you know where to look.
"Climate change is the dominant theme running through a lot of discussions," he said.
"The world is grappling with it. Most people in the oil industry recognise the world needs to address the energy transition, but it is accepted we need oil and gas for the next few decades.
"We want to be part of the transition but need to build a credible oil and gas business that gives returns.
"I'm aware some institutions are holding back from investing, but there are others that see good quality opportunities, so it just depends how you trim your sails.
"There is still going to be healthy demand for the right type of oil projects over the next 20 years.
"I stand to be corrected in six months if we have no funding."
The idea is to kick things off by acquiring a "foundation asset" with "strong production content", followed by some bolt-on deals.
Mr Curran eventually wants Ortus to have a portfolio with production of about 20-40,000 boe per day.
Any bigger and making a return for investors becomes that bit more difficult, given the maturity of the UK continental shelf.
He also intends to keep Ortus in private ownership.
Mr Curran doesn't have to work, so why would he put himself through the mill again?
He said: "I could have chosen to enjoy a comfortable lifestyle, but that's not me. I want to be part of the industry for the next five years plus.
"If I was driven only by money, I could not do what we do. I'd have gone down a different path.
"Of course, the scorecard is material. That's how you measure how well or badly you're doing, but you cannot just be driven by the amount of money you make.
"Part of your soul has got to be in it."
Recommended for you
X

BP engineer among UK victims of Ukraine Airlines crash