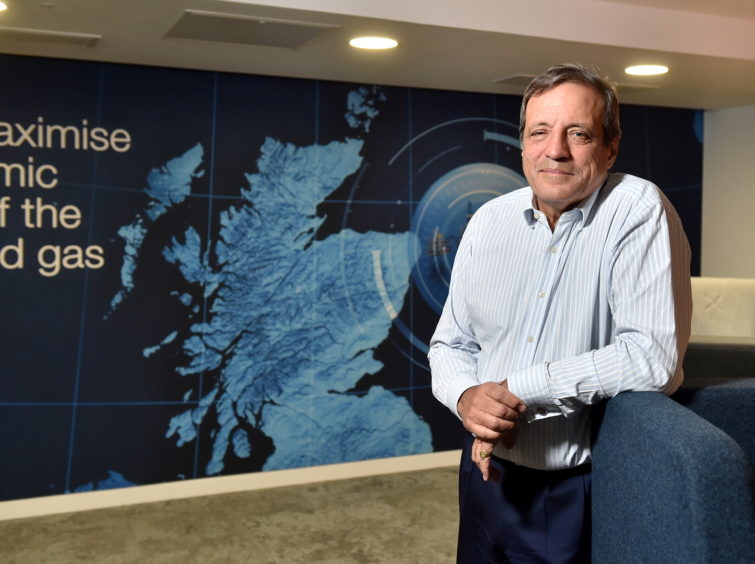 In March last year one of the most charismatic figures to hold office as an energy minister in the UK became chairman of the Oil and Gas Authority (OGA).
He is Tim Eggar, a Cambridge-educated barrister turned financier then politician, who went on to hold numerous non-executive director roles, including in oil and gas.
He not only brought his portfolio of highly relevant experiences into the OGA, he brought an undiminished ability to cut to the chase with a still tough, sharp mind.
Though he had been away from the oil front-line since his stint at Monument Oil and Gas, Mr Eggar was quick to bring himself up to speed with the raft of issues confronting the industry.
Safety is a good place to start. While the industry has advanced further than was predicted back in the 1990s, it is clear that Mr Eggar has reservations regarding progress in this most vital area.
His first involvement in the North Sea began two or three years after Piper Alpha, when the disaster was sharply in focus, not least because the Cullen Inquiry was in train.
"I first got involved as a minister a couple of years after Piper Alpha and I think the lessons have since been learned by and large," says Mr Eggar.
"But I'm surprised that one of the major challenges that has still not been properly addressed is the need for a safety approach common to both operators and contractors.
"If you've got personnel going aboard a Total platform, for example, the chances are that the company will have a different set of safety requirements for contractor personnel than, say BP.
"It is depressing that the industry is still trying to work out a standardised UKCS offshore safety protocol. That old-fashioned, different working practices prevail between operator personnel and contractor personnel is a surprise. It should have moved on, frankly."
Mr Eggar, who has met North Sea union leaders in his quest to get back up to speed with offshore safety issues, added: "Of course, safety is a matter for the Health and Safety Executive. It is not a remit of the OGA but it impacts everything the industry does.
"As platforms and other infrastructure go on ageing, safety's going to remain a challenge. Having said all of that, if you start from the appalling place of Piper Alpha and look at what's happened since, I think it has been a pretty reasonable story."
Turning to supply chain relationships, while there has been progress, deep-seated issues remain despite various initiatives originating from the CRINE crusade of the 90s.
Mr Eggar said: "There are examples where good progress has been made but, generally speaking, relationships between operators and tier one contractors are not constructive enough, but also between the tier ones and the smaller contractors.
"The OGA benchmarks everybody and so we know who the stand-outs are."
One good example is Chrysaor working with Baker Hughes – and the 2019 collaboration study by Deloitte highlights others.
Mr Eggar said: "That operator-contractor relationships are still not where they should be is worrying. Good relationships are important, not just in terms of continuing to get costs under control but also to keep employment up.
"Eighty percent of the industry's jobs sit within the supply chain and this relationship issue worries me, not just short-term but over the longer term too. We shouldn't forget we've got a declining oil and gas province, moreover one that is coming under increasing pressure generated by other forces, not least climate change.
"One of the reasons why I'm so determined to tackle the supply chain side is because we have to increase the level of exports.
"Given that the North Sea is in decline and that there is a need to keep the supply-chain strong, we need to be better at promoting the exports side. But that requires a governmental commitment."
But what can be done for the supply-chain based in the UK and especially Aberdeen, bearing in mind that much of it is foreign-owned?
Moreover, it is a perennial issue; it's been a challenge since at least the early 90s. And now there is the push towards low-carbon, with interest in oil and gas apparently declining.
Mr Eggar is optimistic: "I think we can do more. I agree that the issue has been around for a long time and it's a bit depressing to be addressing it again.
"But we can improve the situation by encouraging greater co-operation between companies looking for overseas business, and between supply chain companies and operators and with government. I want to give it another go.
"The first priority is to get the supply-chain working better on the UKCS. If we can do that then I think we would be more credible in terms of offering supply-chain solutions as opposed to just kit."
So, does Mr Eggar think the OGA puts enough resource into the issue of supply chain-operator relationships?
"Yes it does and the supply chain action plan is evidence of that," he replies.
"Clearly, however, Oil and Gas UK should be the leader in this area and they are responding to what everybody sees as a challenge, which is very welcome.
"We will undoubtedly be doing more, challenging both the suppliers and operators. This is important for maximising economic recovery (MER), where much of the low hanging fruit has been picked over the last four or five years.
"It's going to get tougher and we've always known that. And it's going to involve energy transition. We're going to be rightly asked how MER fits with the government's commitment to net zero.
"My view is that, above all, the OGA is a value creator. We have regulatory powers that we should not be afraid to use and which the industry will see as a bit tougher.
"If we don't get it right then we're all going to lose. Jobs will go and the economy will be weaker."
One aspect of the OGA chairman's brief that has turned out to be bigger than originally imagined is the energy transition.
Critically, there is the matter of the oil and gas industry's licence to operate and the pressure the OGA could come under.
"That may mean that our credibility and commitment will be challenged," says Mr Eggar.
"This isn't just about public opinion. It's now about investor opinion. It is a global battle and not just about the UK. We have to convince people that the oil and gas industry is part of the solution."
Surely the best the North Sea industry can hope for is to be allowed to conduct its business cleanly.
"That's the 'sine qua non' (the essential condition)," comes the reply.
"If we don't do it as cleanly as possible, then we will lose the right to operate. Flaring and venting must be looked at in greater detail and solutions found. There must be change to the way production infrastructure is powered – shifting from gas turbines to electricity from the beach and converting some existing hubs to regional energy hubs rather than just oil and gas hubs."
"Increasingly, as we talk about area plans and final development approvals with companies, we will be asking all these questions and expecting solutions.
"Moreover, industry expects us to challenge it. I think we are extremely well placed potentially on the UKCS. We've obviously got offshore wind developments and there is clearly an opportunity for linkage with such projects.
"There is also the opportunity of utilising some exhausted fields and relevant pipeline infrastructure for CCS/CCUS."
Finally to decommissioning, which Mr Eggar finds exciting.
"That seems odd because it's much easier to get excited about building something than scrapping it," he said.
"Most people's vision of decommissioning is mostly in the context of large structures –platforms. But a big part of the decommissioning challenge is to do with the thousands of wells that are out there in the North Sea.
"One of the great things about well decommissioning is that methods developed and used can be repeated. If one can find a way of plugging and abandoning wells permanently, effectively, quickly and at moderate cost then this should be readily exportable.
"There really is potential for a worldwide market in offshore well decommissioning if we can come up with reliable approaches.
"That's genuinely exciting to me and it could be even more exciting if we could get the decommissioning operators to work more closely together so that everything can be sequenced properly."