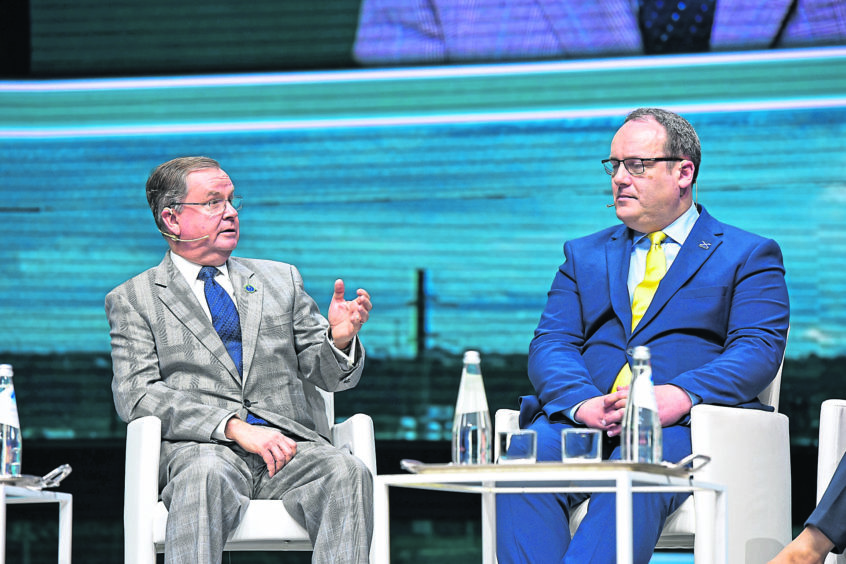 Scotland's energy minister expects public pressure to "leave discoveries in the North Sea" to grow as a major climate summit approaches this year.
Paul Wheelhouse was addressing industry leaders in Florence yesterday, discussing Scotland's challenges around maximising North Sea recovery and meeting new climate goals.
At the event, the Baker Hughes 2020 Annual Meeting, Mr Wheelhouse said Scotland could "absolutely" exploit new discoveries as it makes a "just transition" to forms of cleaner energy.
However he agreed that societal pressure around the climate debate to "leave discoveries in the ground" is only going to grow as the COP26 climate summit in Glasgow approaches in November.
He said: "I think it is growing, I think especially for the UK and Scotland because of the COP being in Scotland in November. I think the pressure will build throughout the year.
"We're trying to encourage the industry to be on the front foot about what it is doing because there is a lot of really good work going on.
"We're looking to demonstrate a credible story about what the industry is doing and, in the UK context, there is a commitment by the industry to completely decarbonise production by 2035.
"That's taking out the equivalent emissions of a country like Northern Ireland just for production of oil and gas. That's a very positive story.
"It has been dismissed by some as greenwashing but it is a very significant contribution to reducing emissions in the UK and Scotland."
Mr Wheelhouse, speaking on a ministerial panel along with representatives from the US and Kazakhstan, said the government was supporting the industry's net zero plans through funding for the newly-announced Net Zero Solutions Centre for the Oil and Gas Technology Centre (OGTC) in Aberdeen.
Although some have dismissed the industry's plans as "greenwashing", Mr Wheelhouse said he hopes the industry will have "knocked out" such accusations through their actions to reduce emissions.
He said the industry is "sincere" about aims to be "at the heart" of a future integrated energy system, including electrification of platforms, use of hydrogen and carbon capture and storage.
Such plans will be crucial for Scotland to meet its own climate ambitions, having passed a Climate Change Act in September with the beefed up target of a 75% drop in emissions by 2030.
Although the country is already nearly 50% below 1990 levels, which is what the target is based on, Mr Wheelhouse said it is a "big gulp moment" as 75% is still 5% beyond what science says can be achieved.
However, he added: "We have outperformed science previously, and we've almost halved the emissions already. We have a 47% reduction on 1990 already.
"The challenge is now a very accelerated pace, how do we achieve 75% by 2030? This is what the science tells us, we have to decarbonise our road transport, our rail transport, our heating."
Recommended for you

Interview: UK energy minister reaffirms oil and gas support ahead of COP26