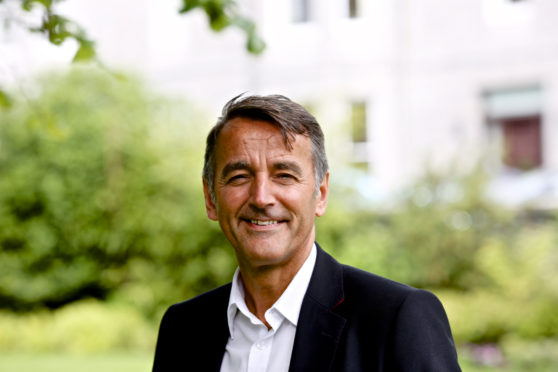 An oil and gas industry veteran who "hails from north-east fishing stock" has reeled in a buyer for his firm's southern North Sea discovery.
Chief executive Richard Strachan said Speedwell Energy was selling its Cotton gas discovery to London-listed RockRose Energy for an undisclosed sum.
Mr Strachan founded his Aberdeen-headquartered oil and gas venture about six years ago.
He named the company after a fishing boat owned by his extended family, who were based in the village of Inverallochy, near Fraserburgh.
A graduate of the Aberdeen and Robert Gordon universities, he said it was always his intention to name the company's assets after local fishing ports and harbours.
Speedwell obtained the block containing its only asset in the 2016 supplementary licensing round.
It was initially called Carna, but Speedwell later received approval from the Oil and Gas Authority (OGA) to rename it Cotton – a local name for Inverallochy.
The field was discovered in 2009 and is located between the Kilmar and Gallow fields, both of which are 15% owned by RockRose.
It is thought to contain recoverable resources of 97 billion cubic feet of gas, or 16.7 million barrels of oil equivalent.
But the asset was relinquished as "no one thought they could do anything with it", according to Mr Strachan, a chartered engineer who has worked in the oil sector for more than 30 years.
Many exploration and production firms start by raising funds before looking for an asset to buy.
Mr Strachan said he had wanted to "try something different" with Speedwell, first identifying a discovery and then – through self-funding – progressing it to the point where it was ready for market, resulting in the RockRose deal.
Along the way, he gained support from his cousin and subsurface director, Jim Ritchie, who holds a minority stake in Speedwell.
Contractors helped come up with a field development plan, which has been prepared for submission to the OGA.
Speedwell has also engaged with the owners of infrastructure which could be used to deliver gas from Cotton.
Asked where the cash came from, Mr Strachan said: "My own pocket."
RockRose will stump up a "limited initial consideration" for the subsidiary of Speedwell which holds the Cotton discovery. A larger sum will be paid if a final investment decision is reached.
London-based RockRose is planning further studies to make sure the economics of the project are "robust".
Recommended for you
X

Updated: North Sea shares climb despite forecast for lower output