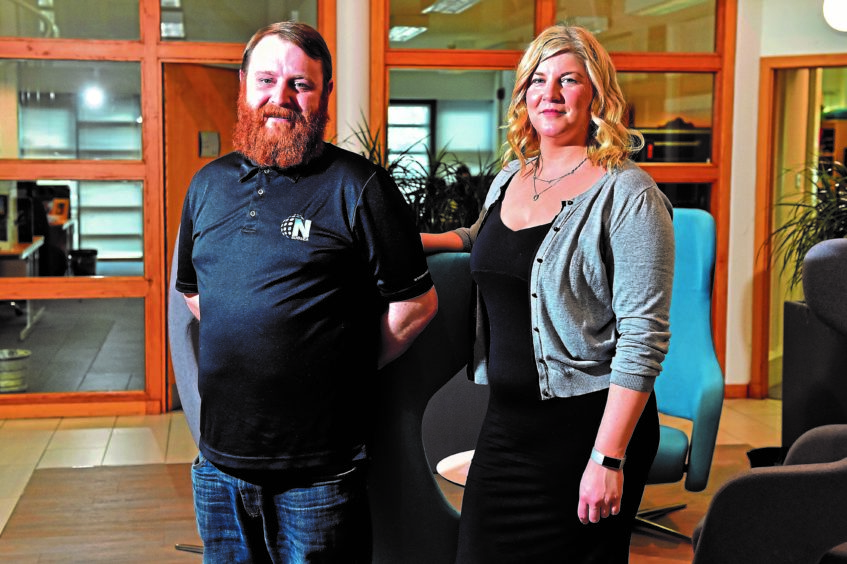 Forged in the bitter winds of the 2014 North Sea oil downturn, Namaka Subsea has built itself up from a two-man Aberdeen operation to a 20-strong team spread across three global offices.
Headquartered at Aberdeen Energy and Innovation Park, the diving and ROV operations specialist opened a branch in Singapore three years ago and added a new space in Trinidad last year – with a first client secured in the Caribbean nation over the festive period.
Lee Duncan, Namaka's business development manager, concedes that starting during the downturn was "never easy" but adds: "Every year has been successful. In
terms of business, it's been really good.
"The majority of our work comes from North Sea operators through contracts, whereas with the other locations it can be a bit more ad-hoc in terms of the new services we have introduced."
Namaka provides technical and operational support to oil and gas firms and the subsea sector, offering diving, safety, technical and medical audits to ensure clients are compliant with offshore rules and regulations.
Last year the firm rolled out its new offshore operations support service, working alongside Singapore diving contractor Hydropro to ensure diving contracts are run efficiently and smoothly on behalf of operators.
It has also launched a raft of new courses in diver training and equipment.
Namaka appears to be constantly moving and evolving its business and services – a rolling stone that gathers no moss.
Duncan said: "We're always on the lookout, seeing who the movers and shakers are in the energy sector and approaching them with our services.
"There aren't many companies that do what we do, so we have a lot of companies coming to us based on location, reputation and some operators will specify that the contracts only use us."
The firm now has its sights firmly set on establishing a Middle East operation base, which Duncan wants to cement "sooner rather than later".
He said: "We're in the process of trying to put a number of agreements in place.
Hopefully that'll see us move into that region on a permanent basis later in the year."
Namaka also hopes to release some newly developed plant maintenance software for diving equipment.
Asked about how big Namaka can potentially get as a global operation, Duncan gives a wry smile, and states: "It really depends where else we can get into.
"We do have emerging markets like Guyana, which is still early days but we're looking into that. And there's always North America, which is a bit trickier as they follow different guidelines compared to the UK and the rest of the world."
Though cagey about revealing the names of contracting operators, Duncan is happy to say that the lion's share of Namaka's
North Sea work is held with longstanding oil and gas firms or
diving contractors as opposed to new private equity-backed firms or the emerging renewable energy market.
Angela Stephen, Namaka's business manager, claims that the reason often comes down to cost.
She said: "With oil and gas operators, it's deeper water, further offshore, whereas renewable energy is what we call air diving and they have lower budgets.
"We do provide services on occasion to these companies, but it's not really a market we've chased after."
But Stephen did add that Namaka has been contracted by a growing number of smaller oil and gas firms who want to ensure they're compliant with all necessary North Sea offshore procedures.
Duncan said: "If these small contractors want to go for that
big work it's something they have to do.
"And that is something we've seen a lot more of since the downturn and that's because they can offer better costs than your large contractors, who have huge assets."
Reputation seems to be the lifeblood that sustains niche firms like Namaka through the tough times, yet each of the business chiefs noticeably bristle when mention of a possible oil recovery is mentioned.
Duncan added: "Last year was a very busy year for us, and you do notice a bigger buzz around the city, but these things can often be a hit or a miss and we just have to keep our ear to the ground, as always."
Recommended for you

Shelf Drilling Perseverance rig to depart North Sea for £58m Vietnam contract