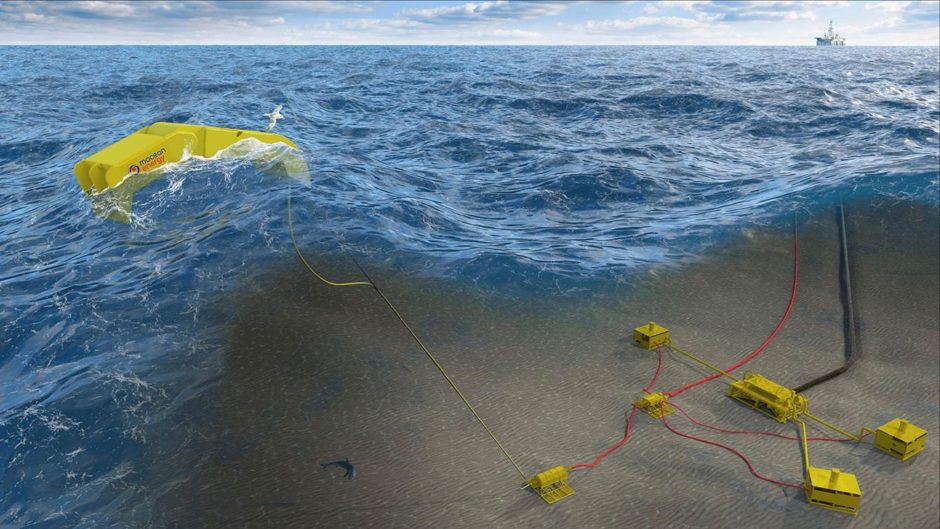 A new clean energy power system could soon be used to provide backup power to North Sea assets.
The project, involving Aberdeen wave energy firm Mocean Energy and a partnership group which includes North Sea operator Chrysaor, hopes to examine the potential to provide vital auxiliary power in case of subsea umbilical failure.
The partnership and funding team also includes Bridge of Don energy storage firm EC-OG, autonomous underwater vehicle (AUV) specialist Modus and the Oil and Gas Technology Centre (OGTC).
Mocean Energy's Blue Star wave energy converter and EC-OG's Halo subsea energy storage system will be trialled to prove the combination can power subsea tiebacks or residential AUVs.
It will then undergo a technology field trial off Orkney.
Paul Slorach, business development director for EC-OG, said: "Our goal with this project is to demonstrate not just the technical feasibility, but also the financial benefits and carbon savings from using renewable energy to power subsea infrastructure."
Mocean Energy secured £3.3 million from Wave Energy Scotland in 2019 to build and test a half-scale version of their technology at sea.
The device is currently being fabricated.
Mocean Energy managing director Cameron McNatt, said: "This project gives us the opportunity to put our prototype to real use and will give us the chance to draw on the subsea expertise of our project partners.
"It is a genuine opportunity to showcase the potential for renewable energy to power a subsea application."
It is thought wave and wind energy has the potential to decarbonise emissions from North Sea platforms over the next five years.
A marine-powered buoy designed by Ocean Power Technologies was deployed for testing at Premier Oil's Huntington field in the central North Sea in August.
Myrtle Dawes, solution centre director at the OGTC said the basin had the potential to transform how the oil and gas sector operated and would "see the North Sea lead the way in energy transition technologies."
She added: "This new project is a phenomenal example of cross-industry collaboration to deliver an innovative technology that can help accelerate the industry's move towards a net zero carbon economy."
Recommended for you

Marriage plans for wave energy and offshore wind in Scotland