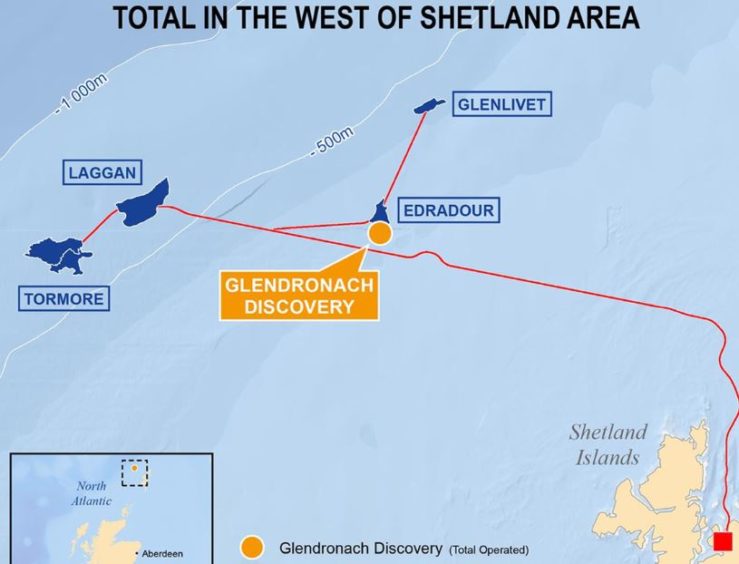 Total is facing "economic challenges" for a major discovery in the West of Shetland after an appraisal well yielded results "at the lower end of expectations".
The French operator announced the discovery of Glendronach in September 2018, with the potential to produce one trillion cubic feet of gas, or about 175million barrels of oil equivalent.
Plans were to develop the discovery via existing infrastructure at the nearby Edradour field, which started up in 2017.
However that concept was challenged by "high levels of mercury" found at Glendronach.
This means a costly Gas Mercury Removal Unit (GMRU) and other modifications will be required at the Total-operated Shetland Gas Plant, so the operator drilled the appraisal well to firm up estimates and justify the costs.
Despite that well being planned "as a keeper", Total is now pursuing "a single well development opportunity" for Glendronach via the original exploration well.
Total said the results of the appraisal (GD02) means they need to "revisit" the GMRU to optimise the design, as well as carry out additional subsurface and technical work, before a sanction decision can be made.
If that has a positive outcome then a final investment decision (FID) is expected around July.
The information, posted on the Oil and Gas Authority's website, set out the challenges.
It said: "With the GD02 results bring at the lower end of expectations, the challenges for the project are essentially economic in nature and ongoing work is focussed on reducing reservoir uncertainty and capex optimisations."
Total has a 60% operated interest in Glendronach, while partners Ineos and SSE each have 20%.
The discovery lies less than a mile to the south-east of Edradour and 22miles east of the Laggan field.
Total started up production from Edradour and the neighbouring Glenlivet gas and condensate field in August 2017.
That development consists of a 22-mile tie-back of three subsea wells to the existing Laggan-Tormore production system.
Gas from Laggan-Tormore is exported to the onshore Shetland Gas Plant via a 90 mile long pipeline.
Recommended for you

Kistos 'ready to sanction' TotalEnergies gas projects in West of Shetland