A company, which has worked on everything from James Bond movie sets to NASA and Chelsea FC's owner's superyacht, is now targeting Aberdeen's oil and gas sector as its next growth market.
Best known for its "yellow bags", JW Automarine manufactures a range of load-testing and underwater airbags for a variety of industries and has launched a new hire division in Dyce.
The firm, set up in Norfolk in 1972, is aiming to expand in the oil and gas sector through hiring out their products, which can hold hundreds of tonnes of water, to proof-test equipment like cranes.
Initially targeting revenues of £500,000 for the hire division's inaugural year, the firm plans to boost that to between £2.5m – £4million for the UK within the next two to three years.
JWA said it has always manufactured products for oil and gas, but when its main customer-distributor in Aberdeen, Water Weights, was bought by Unique Group in 2018 they went to a different supplier which meant JWA lost revenue.
However the firm is now targeting 60-75% of the market share within the coming years.
Managing director Chris Dawson, an Aberdeen native who had a two-year stint for the Dons' youth squad before a professional career with Bolton Wanderers, said there is plenty to play for in the North Sea market.
He said: "We've come along offering competition for our clients. That's healthy, that's what's helping the industry.
"I've been at the company for just over a year and I came along to look at the gaps in our revenue stream over the last five or six years. I saw a big gap particularly in the oil and gas market.
"There are fields still available and we found Aberdeen to be the best place for us to be globally.
"It's exciting times to be quite honest and I'm really looking forward to the next stage we go to."
The firm currently has four people in the city, with hopes to double that within six months, supplemented by a workforce of 18 at its Fakenham headquarters.
That's not including any further international expansion for the hire division, which Mr Dawson said was also on the cards.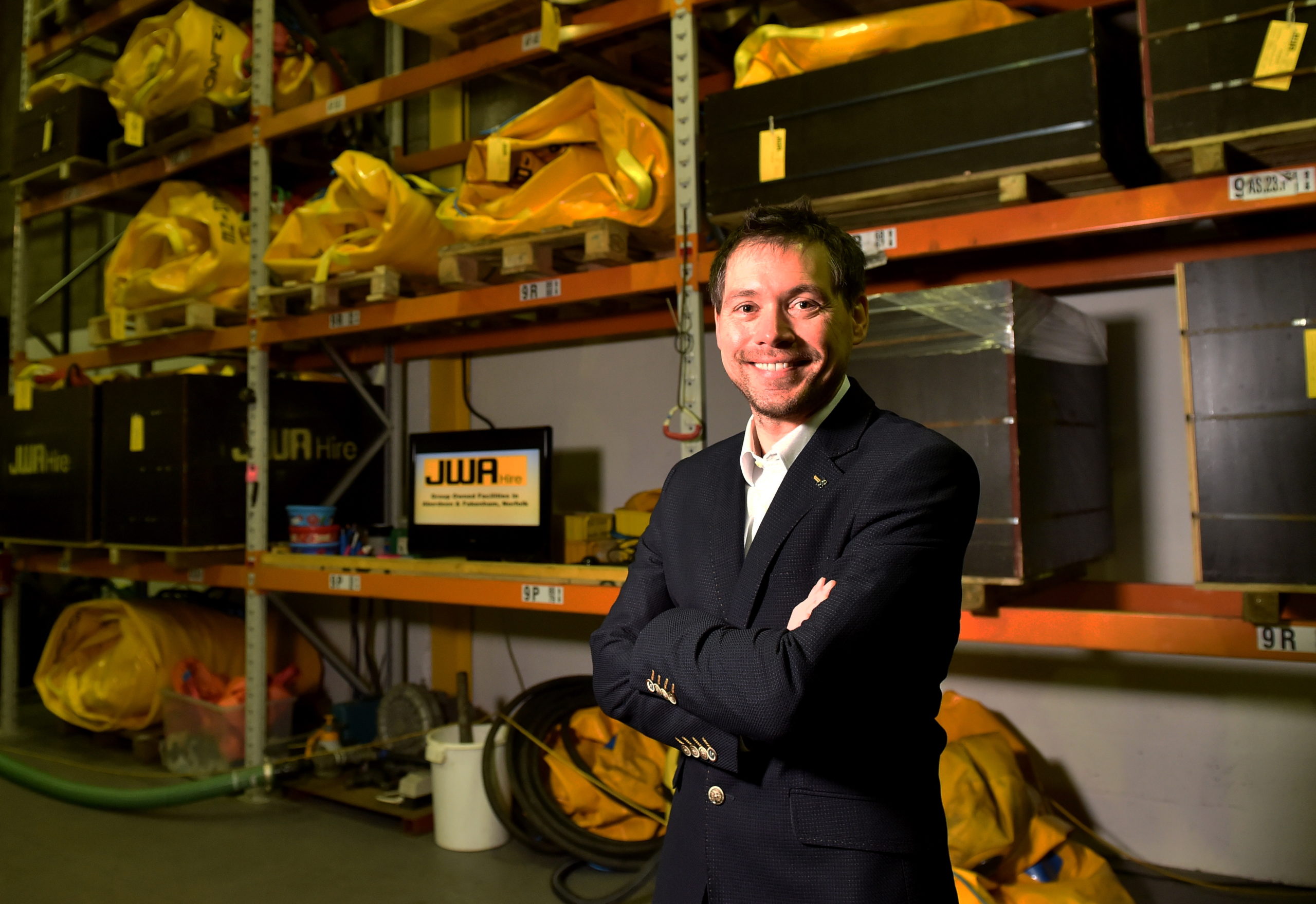 Around 90% of the hire division's revenues come from the oil and gas sector, however the wider firm works for a vast range of industries.
That includes contracts for movie props like James Bond Casino Royale and, most recently, the latest Jurassic World film, as well as helping the navy bring unexploded bombs on the seabed to the surface.
JWA has also been hired out to weigh down Nasa astronauts, training in swimming pools, to help imitate the sensation of zero gravity.
Although it makes up a small percentage of the work, these contracts help showcase the versatility of the company, Mr Dawson said, which has also included work on Roman Abramovich's superyacht, Eclipse.
It was, in fact, Mr Dawson's own time captaining a yacht, after finishing up his football career in Malaysia, that led to him ending up working for JWA.
He added: "The football side was over and done with and I got into yachting. I was the captain of a yacht down in the south of France in Monaco.
"I did that for 11 years and the owner of that yacht was the owner of Scholle IPN, which owns JWA.
"He liked some of my ideas and he wanted to facilitate that and he gave me, sort of, carte blanche to grow the company."