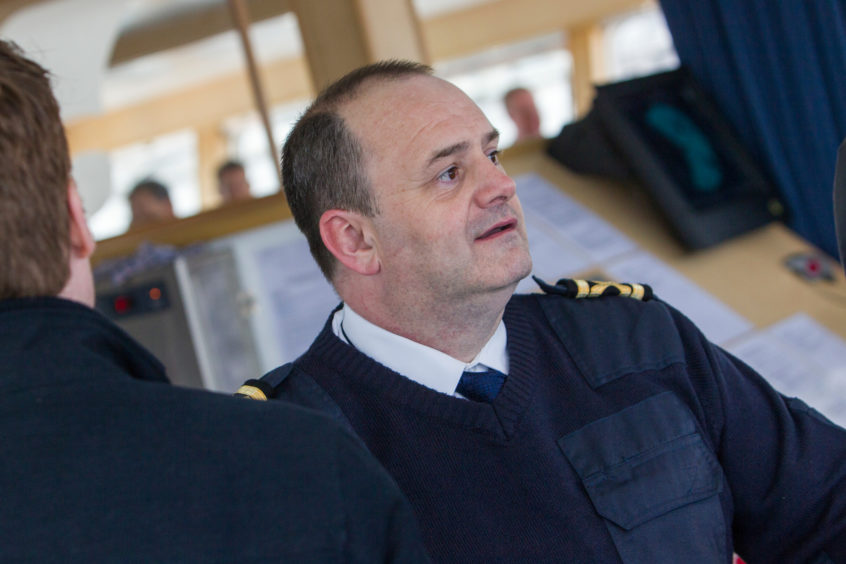 The work of emergency response and rescue vessels (ERRVs) is just as essential now as it was prior to the covid-19 outbreak, according to the captain of one such ship.
ERRVs are the place of safety should anything go wrong during operations on North Sea platforms, from abseiling workers potentially falling into the sea, to a helicopter ditching near the installations.
"Without us there they have no backup and they would probably have to shut down" said Ivor Flett of the Mariner Sentinel ERRV.
"Without a place of safety they're not allowed to work so we're pretty critical to the offshore industry."
Captain Flett, from the Orkney Islands, has worked at sea for 33 years, 26 of which have been on ERRV vessels.
He commands a crew of 12 men on the Class B vessel, which needs to work in the freezing conditions off the coast of the UK.
A significant portion of ERRV vessels are made up of international workers, meaning the industry is currently facing problems in crewing up the ships due to travel restrictions.
The entire industry has therefore been asking workers to remain at sea for an additional four weeks, making up a total of two months offshore at a given time.
Captain Flett said: "Although we're doing our part, we're also probably in one of the safest places to be.
"I can't really claim altruism on behalf of it, it's just common sense. When we're at sea and isolated, we truly are in a contained environment.
"Other than the fact we work in the environment we work in, we're in the safest place we can possibly be because our power, our water, our space is completely isolated
"Most guys realise that so when I asked the crew if they were willing to do an extra trip it was completely unanimous."
The ship is fitted with metal plates on the windows to help it withstand the conditions of the North Sea, with videos going viral in recent years of ERRVs tackling giant waves, reported to be 100ft high.
Captain Flett added: "There's always the option to leave the field and run for shelter. In 26 years I've only had to do that twice in extreme weather conditions.
"We don't like to do it because, obviously, despite the fact in those weather conditions there's probably not a lot we could offer in an emergency situation, it gives the guys on the platform piece of mind.
"If we're there then at least they can get on a helicopter. So we tend to stay out in conditions that other guys don't for that very reason."
Recommended for you

Sky not the only limit in future North Sea aviation