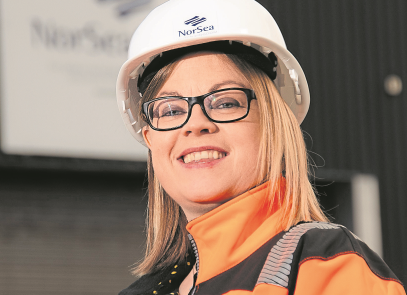 The UK arm of Norwegian energy service group NorSea has said investment in its Aberdeenshire base to date totals more than £2 million.
NorSea UK, based in Aberdeen, said it aimed to "redefine the operating strategy" of its site in Peterhead, which services vessels operating in the North Sea.
The company has been a tenant of Smith Quay since 2014.
Facilities there include a weather-protected, deepwater berth and quayside laydown and marshalling areas totalling around 177,600sq ft.
This is after a Peterhead Port Authority project expanded the quay by more than 320,000sq ft.
NorSea UK also has nearly 150 yards of berthing and more than 172,000sq ft of external storage and quayside laydown capability at nearby Merchants Quay, where the removal of the old fish market has significantly boosted the space available.
The firm said the biggest part of its investment in Peterhead to date was a £1.8m project to instal marine gas oil tanks on Smith Quay.
More recently, a £200,000 logistics centre housing new offices, meeting rooms and an internal storage facility has been added to help service renewable-energy and oil and gas markets.
NorSea UK country manager Karen Russell said: "Because we are working with a growing number of offshore and onshore clients, it is important that our facilities evolve in line with their business requirements.
"The implementation of even more stringent controls and procedures in recent weeks means we have been able to continue to welcome vessels which service the offshore oil industry.
"We will work hard to maintain that provision, while keeping the safety and wellbeing of staff and visitors at the top of the agenda at all times."
NorSea UK has its headquarters in Altens Industrial Estate.
The privately-owned company – part of the 55-year-old NorSea Group, based in
Tananger, near Stavanger – provides supply bases and integrated logistics services to the energy and other industries.
NorSea UK said it had enjoyed steady growth since its creation in 2014, while a new regionalisation strategy partnering it with NorSea Denmark is expected to lead to more opportunities. The wider NorSea group has supply bases in Norway, Denmark, Canada and Australia, as well as the UK.
Headcount varies in the UK depending on projects being worked on at any given time but as a whole, the group employs about 770 people globally.