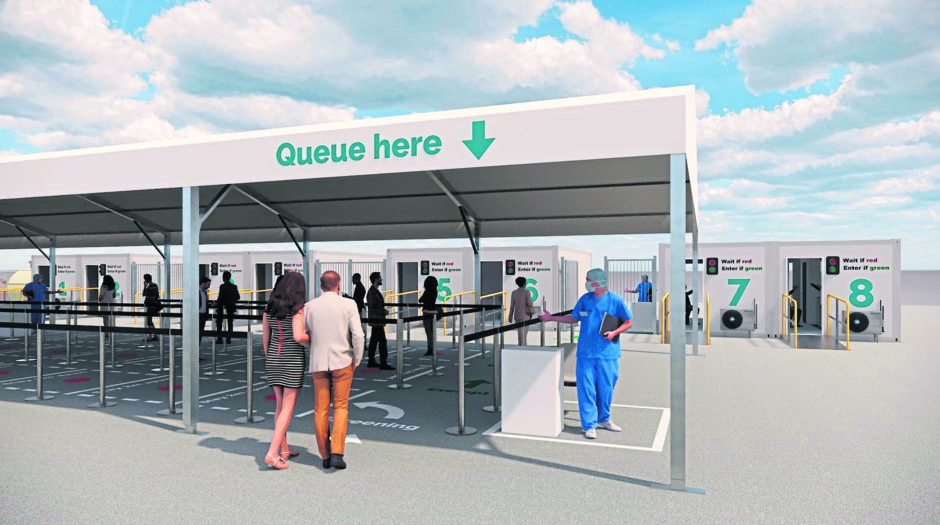 A consortium involving a north-east engineering and technology group is in talks with airport owners across the UK about installing screening stations for coronavirus testing.
The accommodation division of Texo Group aims to deliver them for sites of critical national infrastructure – such as ports, airports and heliports, logistics centres and major construction projects.
Westhill-based Texo said the units could be fabricated, fully tested and commissioned, at a rate of 50 a week.
Modular buildings designed under a partnership with German firm ELA Container would be supplied by Texo operations in Dundee or Blyth, in north-east England, depending on where customers are based. The concept has been developed with architects Gebler Tooth, specialist aviation sector advisers AiQ Consulting, alongside SSI Energy medical testing solutions.
Texo already supplies bespoke modular units for a variety of uses across a range of industrial sectors, including offshore energy, aviation and construction.
Richard Lamb, managing director, Texo Accommodation, said he expected modular offices, welfare spaces and sanitation facilities to be in high demand as companies consider what capacity they need for social distancing, screening and additional hand-washing facilities.
He added: "Requirements on how to work safely have been changing quickly and owners and managers of facilities have been adapting to ensure they can continue to support essential services. We expect virus testing and social distancing will be required for the foreseeable future.
"However, as lockdown conditions ease there will be a need for flexible space to accommodate a return to the 'new normal'.
"Our solution reflects the need for airport, heliport and port operators – and the organisations that offer services at these locations – to provide robust screening to prevent the spread of Covid-19, while also meeting requirements for social distancing and general welfare."
Texo Accommodation has developed a guide for temporary screening facilities in partnership with specialist aviation sector advisers and architects.