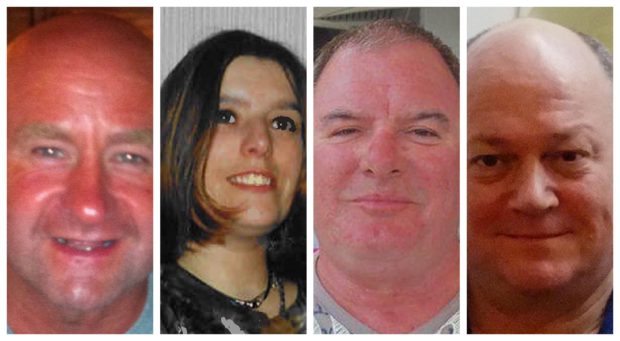 The family of a Moray woman killed in a North Sea helicopter crash have expressed "dismay" that a fatal accident inquiry into the tragedy will be held remotely.
Four offshore workers were killed when the Super Puma went down on its approach to land at Sumburgh Airport in Shetland in August 2013.
Yesterday a preliminary hearing held online due to coronavirus concerns set August 31 as the intended date of when the inquiry would begin.
However, solicitor Alan Rodgers, who is representing the family of Elgin woman Sarah Darnley, who died in the crash with Gary McCrossan from Inverness, Duncan Munro from Bishop Auckland and George Allison from Winchester, explained loved-ones of the 45-year-old were disappointed the evidence would no longer be heard in a courtroom.
He said: "They have asked me to simply record their dismay at the decision that has been taken to proceed in this way.
"They have spent several years expecting the traditional inquiry to take place at Inverness Sheriff Court and unfortunately that isn't what they are going to get.
"They are though appreciative of the Covid-19 crisis."
The fatal accident inquiry had been due to commence in May but was postponed due to the coronavirus pandemic.
Sheriff Principle Derek Pyle, who is presiding over the hearings, previously called it "deplorable" that the families have already waited nearly seven years for the evidence.
Yesterday he repeated calls for the inquiry to be convened "as soon as possible", but stressed it must also be "comprehensive" to provide comfort to families of the victims and 14 survivors.
He added: "I still express considerable sympathy with what Mr Rodgers has said and I note the dismay that has been recorded.
"But again I have reached a decision, with full regard and understanding of the dismay of Mr and Mrs Darnley, where I have had to take into account a whole series of considerations."
Sheriff Principle Pyle described yesterday's virtual hearing as a "new experience" for many but believed the technology was suitable to proceed.
An investigation from the Air Accident Investigation Branch (AAIB) in 2016 concluded that "pilot error" was responsible for the crash after the crew failed to noticed the airspeed of the helicopter decreasing.
However, the families have continued to call for an inquiry for closure on the tragedy.
Representatives from the AAIB, Civil Aviation Authority, CHC Helicopters, Darchem Engineering, Airbus and Total Exploration are also taking part.
It is expected that the inquiry will last about four weeks with Sheriff Principal Pyle due to publish his findings before the end of October.
However, advocate Jonathan Lake, who is representing CHC Helicopters, described the timescale as "extremely optimistic" due to complexities of presenting evidence online.
A further preliminary hearing has been scheduled for early August with another due to take place the week before the inquiry itself starts.