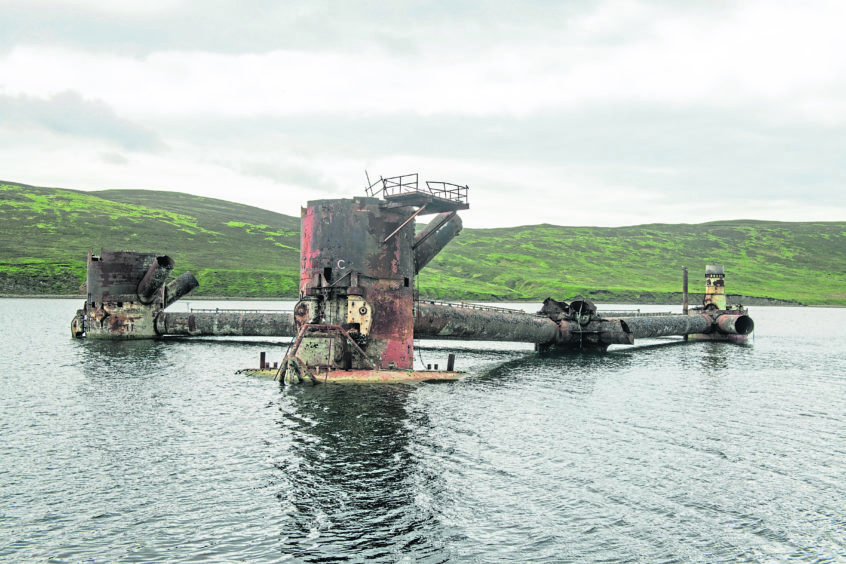 Plans for the breakup of a rusty oil rig hull currently languishing in the waters off Shetland need to be carried out before it becomes an "eyesore", according to the MP for the region.
Alistair Carmichael, MP for Orkney and Shetland, said the firm currently responsible for the decommissioning of the former Buchan Alpha oil and gas platform piece should be "executing the work that needs to be done" to ensure its safe removal.
The Buchan Alpha hull broke free from its berth due to high winds in November and floated inland from the Dales Voe decommissioning facility – it now lies in the Voe near to land at Gott.
Veolia UK, the company contracted for the disposal of the 12,000-tonne semi-submersible in 2017, said it was "waiting for a suitable weather window" to break up the rig section.
However, Arabelle Bentley, executive secretary of Shetland-based marine pollution prevention protection group, KIMO International, called for the firm to be more "transparent" about the timeline for its plans.
She said: "What is the intended destination now for the rest of what's there – and what's the timescale?
"Veolia need to be more upfront with sharing information."
Mr Carmichael claimed that, with a small number of exceptions, the environmental impact of the oil and gas industry has been "very well managed" and has not had an adverse effect on Shetland's natural environment.
He said: "The people of Shetland will expect companies that are engaged in decommissioning to hold themselves to the same high standards of safety and environmental regulation that the rest of the oil industry has always done – we don't want to spoil that now.
"Especially not at a time when we will want to be rebuilding our visitor economy after lockdown.
"Veolia should first of all be making it safe but then executing the work that needs to be done in a way that is not going to be damaging environmentally and, as far as possible, is not going to be an eyesore."
A Veolia spokesperson said last night that the structure is "currently secured and ballasted in the Voe inlet is from an offshore structure that was delivered to Lerwick for decommissioning and disposal".
He added: "Having been previously cleaned and decommissioned the structure is free from any contaminants or hazardous waste and presents no risks to the environment."
Recommended for you
X

Oil stuck near $43 with market weighing supply against virus