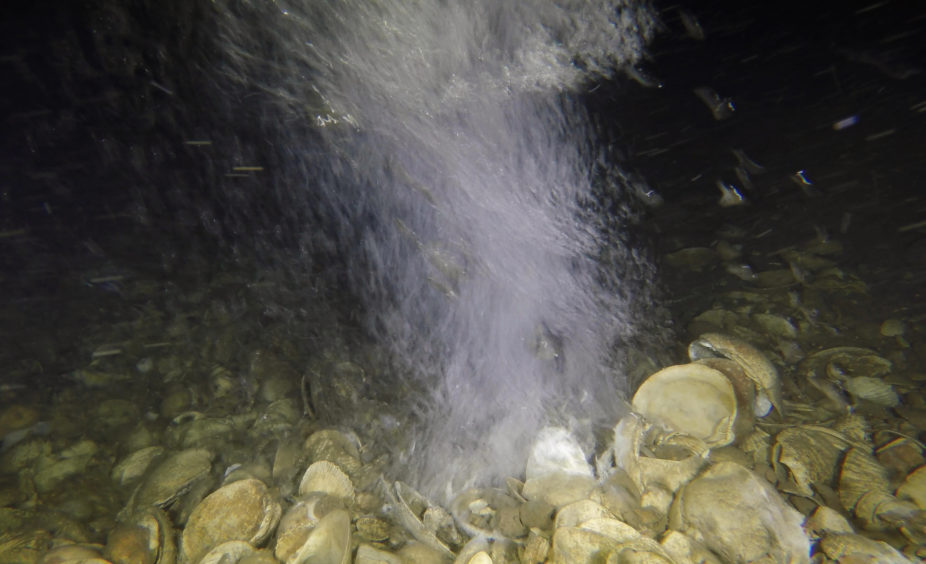 Environmental activists claim to have found a methane leak in the North Sea that was caused a "blow-out" during drilling operations 30 years ago.
Researchers on board Greenpeace's Esperanza ship used a remotely operated vehicle to film two of the gas-emitting craters around 100 metres below the waves.
The discoveries were made around 200km east of Peterhead.
The group said the leaks are between 50 and 15 meters in diameter and up to 20 and 9 meters deep respectively.
It claims they were formed in 1990 when Stena Drilling, acting on behalf of Mobil North Sea, now Exxon Mobil, "accidentally tapped a gas pocket" with the High Seas Driller platform.
Greenpeace also said the leak was handed back to the British government in 2000, who decided that the reservoir would soon be depleted and further monitoring would not be required.
According to the environmental group, an international team of scientists studied the site in 2015 and estimated as much as 90 litres of methane, which is 28 times more powerful than carbon dioxide, per second was being released.
Earlier this week, Energy Voice revealed that a number of North Sea installations had been placed on alert after the Esperanza was spotted making its way through oil fields.
Greenpeace said the ship was on a month-long "documentation and peaceful protest tour" to examine the impact the oil and gas industry is having on the North Sea.
Dr Sandra Schöttner, marine biologist and oceans campaigner with Greenpeace Germany, said: "Like many places across the North Sea, climate-destroying methane has been leaking here for decades, yet the oil and gas industry, instead of closing the leak and monitoring it, continues to drill holes in the sea bed, while decision-makers turn a blind eye.
"We are in the middle of a climate crisis fuelling fires, floods and inequality across the world and this leaking methane is a climate change multiplier!
"The oil and gas industry has been fuelling the climate crisis and polluting our oceans for decades. This industry does not belong in the new green world we need to build after the pandemic.
"We need a rapid change to renewable energies and a just shift of fossil fuel workers to industries with a future. We need governments to bail out the climate and workers, not the polluters."
Recommended for you

Windfall tax risks 'destroying' North Sea production, Tory MPs warn Chancellor