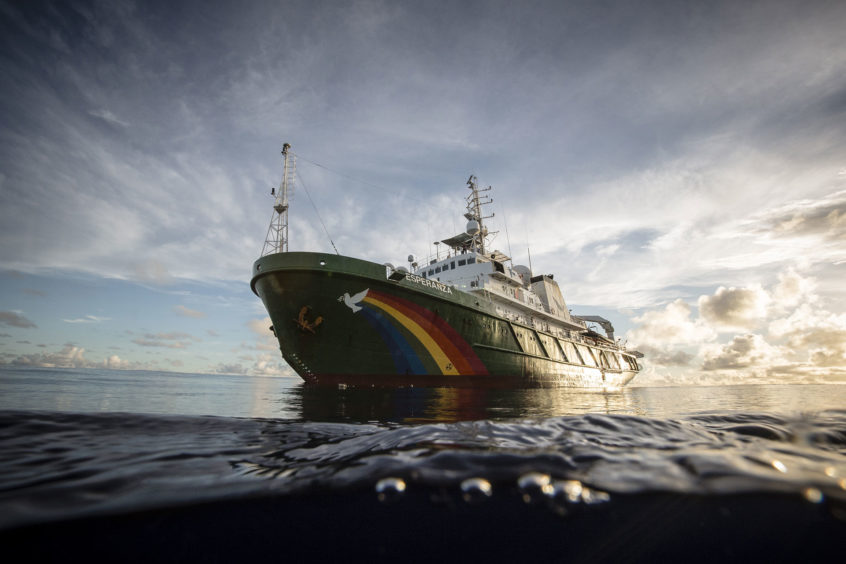 Workers on a number of installations in the northern North Sea have been told to stay alert after a Greenpeace ship was spotted in the area.
The Dutch-registered Esperanza is currently around 100km east of Peterhead as part of a month-long "documentation and peaceful protest tour".
The environmental group said teams are on board to gather evidence about the oil and gas industry, which it claims is "polluting the ocean and fueling the climate crisis".
The Esperanza, which set sail from Hamburg at the end of last month, was initially spotted more than 200km east of Aberdeen travelling through the Shearwater and Elgin-Franklin fields, which are owned by Shell and Total respectively.
Trade union boss Jake Molloy has criticised the move and said, with the industry already on high alert as a result of the Covid-19 pandemic, it's "niether the time nor the place" for further distractions.
Last month, Greenpeace was hit with an £80,000 fine after activists tried to stop Transocean's Paul B Loyd Jnr rig from reaching BP's Vorlich field in June 2019.
Protestors blocked its path as it tried to leave the Cromarty Firth, while days before other demonstrators scaled the rig.
And Mr Molloy, RMT regional organiser, is concerned that similar action could be on the horizon again.
He said: "Installations are already on high alert due to coronavirus and they don't need another distraction like this.
"For the most part workers understand that Greenpeace has a role to play, although they may not agree with them, but right now in the North Sea it's neither the time nor the place for any more disruptions.
"I've seen first-hand what happens when you get Greenpeace activity in the North Sea. I was fortunate, or unfortunate enough to see what happened during the Brent Spar incident and it is a big diversion. It does cause anxiety for some workers and it's unnecessary.
"If Greenpeace has something to say then by all means it should say it. But don't interrupt people who are just going about their job in the same way as many other industries which, it could be argued, are far more environmentally damaging."
Ahead of the Esperanza's departure on 30 July, Dr Sandra Schöttner, marine biologist with Greenpeace Germany said: "While European Governments talk about solving the climate crisis, the massive oil and gas industry continues to pollute in the North Sea, discharging tons of chemicals and oil; the equivalent of one oil tanker accident every year. Worse still, they're doing this with the help of public funds; money that should be used to protect us, not worsen the climate emergency.
"Covid-19 is not only sending the oil and gas industry into crisis, but hastening it's inevitable demise, while giving us an opportunity to do the best thing for our future and build back better. We need a rapid end to this polluting industry and we need to start the transition to a sustainable economy. Governments should be supporting a worker transition into new clean industries."
Recommended for you

'Dangerous and damaging': Six-tonne North Sea oil spill in marine area