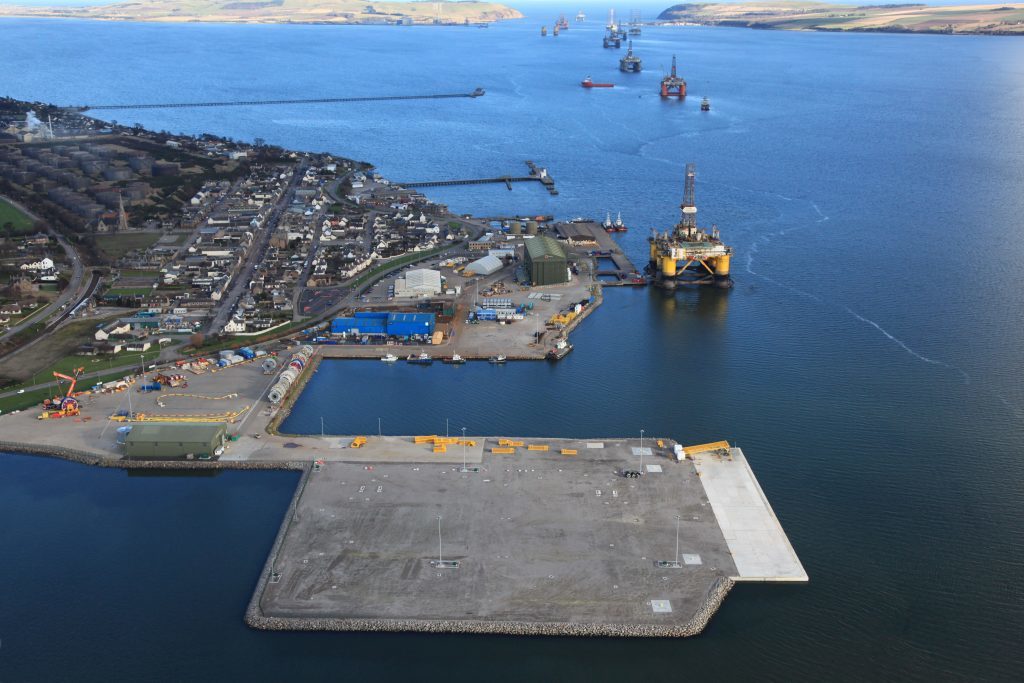 The Port of Cromarty Firth (PCF) has the best track record of any facility of its kind in Scotland in supporting government net-zero carbon emissions, according to a new report.
The survey, by Crown Estate Scotland (Ces), said the Easter Ross port's key Highland location was seen as vital for supporting a major expansion of the offshore wind industry.
Entitled Ports for Offshore Wind – A Review of the Net-zero Opportunity for Ports in Scotland, the report highlights the capacity of Scotland's ports and harbours and the steps needed to bolster rapid expansion in renewables projects around the coastline.
It said PCF provides "long-term potential" to supporting future offshore development zones, including ScotWind Leasing, the first round of seabed leasing for offshore wind in Scottish waters in more than a decade.
The report also pointed to the port's location as centrally situated to reach many of the development zones earmarked for future wind farms, and as a stand-out facility in terms of offering support to floating offshore projects.
In addition, it highlighted the firth's ability to develop further capacity in marshalling and assembly, as well as fabrication and manufacturing, thanks to its deep, sheltered waters.
And it underlined the importance of all "hub" ports continuing to grow capacity to meet the infrastructure needs of developers and help build new wind farms at the scale Scotland requires to meet its net-zero carbon emissions target of 2045.
Ces emphasised the need for Scotland to take a strategic approach to investments and consider the creation of a national renewable energy "hub" on a scale comparable with other European countries, such as Rotterdam and Vlissingen in the Netherlands, Cuxhaven in Germany and Esbjerg in Denmark.
PCF chief executive Bob Buskie said: "This report is good news for the Cromarty Firth and the Highlands.
"It shows the port's hard work over the past few years to align our strategy with meeting the future needs of the offshore renewables sector is paying off.
"Our Phase Four development, which saw a £31 million expansion of our quayside and laydown areas, provided us with the infrastructure to support significant projects – such as the £2.6 billion Moray East offshore wind farm – and there is already huge demand for our services."
Mr Buskie added: "Being a trust port, where all of our profits are reinvested into the port's development, gives us huge scope to develop our facilities further and we are investigating new plans to substantially increase our capacity.
"These fresh plans will further open up the Cromarty Firth to supporting a host of major wind farm projects earmarked in offshore areas, both close to us geographically and further afield."
Ces chairwoman Amanda Bryan said in the report Scotland had "some of the best natural marine resources in the world" – and offshore wind offered a path to "unlocking their potential" to help tackle climate change and "future-proof" Scotland's economy.
She added: "While ScotWind is a critical first step in securing the opportunity which lies ahead, it will only work if various other steps are taken alongside this.
"One of those steps is ensuring that Scotland's ports are ideally equipped and ready to support the rapid expansion of offshore wind, and play host to
the major projects we hope to see in the years to come.
"This report seeks to provide a route map for doing exactly that."
Announced in June, the ScotWind leasing round was hailed at the time as a "once-in-a-generation opportunity that could transform the country.
Expected to be worth in the region of £8bn, ScotWind involves the leasing of 17 offshore sites by Ces.