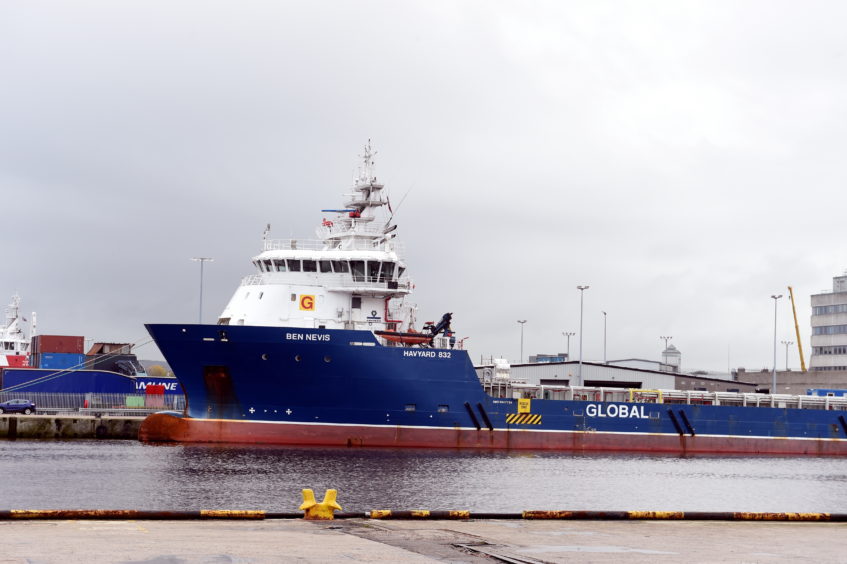 A ship moored in Aberdeen harbour has been detained by authorities amid welfare concerns for the crew on board.
The Maltese registered ship, which is owned by Indian oil and gas firm Global Offshore Services, was seized by the Maritime and Coastguard Agency (MCA) yesterday.
According to a trade union inspector, of the 24 Indian nationals that make up the boat's full time crew, 10 have returned home while 14 remain on-board.
A spokeswoman for the MCA last night confirmed it had detained the offshore supply vessel Ben Nevis in order to carry out a full inspection related to the Maritime Labour Convention.
It also confirmed it took action after concerns were raised about the welfare of the crew.
Further claims were made alleging the crew was also owed between four and five months wages for work carried out from April through until August and that workers had been on-board longer than their agreed contracts.
But last night the vessel's operator hit back at the allegations and said work is ongoing to "arrange for balance payment" of crews dues.
Bert Seevinck, managing director of Global Offshore Services B.V – a subsidiary of Global Offshore Services – said: "It is not correct to state that the crew has not been paid for several months.
"Further to the issue of crew earnings, please note that the statement that the company is underpaying the crew is factually incorrect."
It is understood since June the ship has been on charter hire to logistics firm Peterson UK, oil producer Dana Petroleum, as well as to Moray Offshore Windfarm (East) Ltd, the company behind the Moray East development.
In 2018 it was revealed that a crew of Indian sailors on board the Malaviya Seven were owed hundreds of thousands of pounds in wages, despite being trapped in Aberdeen for more than a year after their ship was detained in port.
Fraser Heasley, assistant director of  survey and inspection, said: "We will always take reports around crew welfare seriously and we have used our powers as the Port State Control authority to carry out this detention so that we can investigate more fully."
Mick Cash, general secretary of the RMT union, welcomed the move by the MCA and claimed it represents a wider issue of ill treatment of mariners in the North Sea.
He said: "RMT warned at the start of the pandemic that seafarer welfare standards would suffer from the arrival of more ships in the North Sea with exploited crew on board.
"Operators in the oil and gas and renewables sector must improve due diligence in their supply chains to raise employment standards and increase jobs for local seafarers.