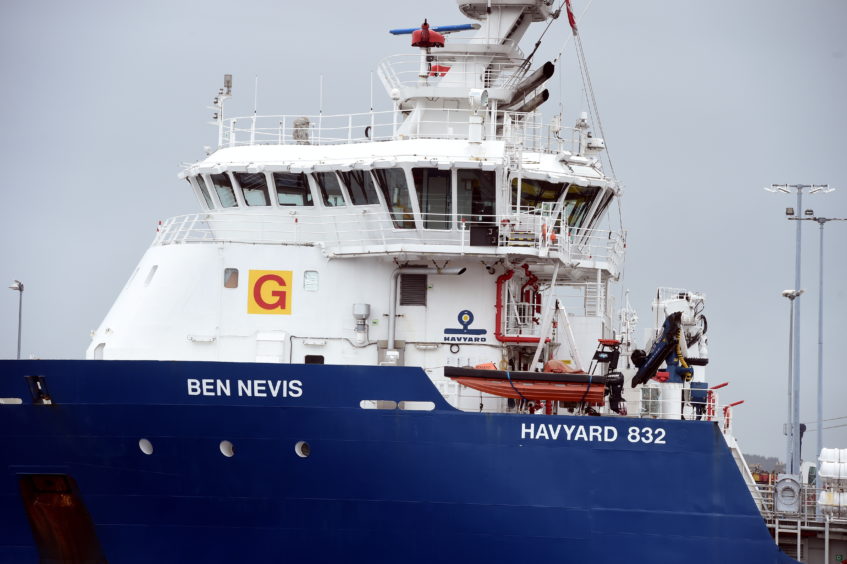 A ship currently detained over unpaid wages is expected to set sail from Aberdeen Harbour despite still owing workers up to £150,000.
It is understood the Ben Nevis, a Malta-registered offshore supply vessel, intends to travel from Aberdeen as early as this week while still owing crew for work carried out between June and September.
Indian ship-owner Global Offshore Services insisted last week it had paid the salaries of "all crew on the vessel" – but the Press and Journal has learned the firm still owes tens of thousands of pounds to 10 staff who have since left to undertake work on other ships.
The Ben Nevis was seized by the Maritime and Coastguard Agency (MCA) last Tuesday after it was discovered no wages had been paid to some staff for up to five months.
Of around 24 Indian nationals that made up the boat's full-time crew, it is understood 10 have returned home while 14 remain on-board.
A spokesman for the MCA confirmed last night an investigation is currently "in progress" and the supply vessel remains in detention at the harbour.
However, it is understood the vessel firm could take advantage of a regulations loophole and sail as early as today now the on-board crew has been compensated.
Bert Seevinck, managing director of Global Offshore, said his firm had paid "the majority" of salaries to signed-off crew, adding that the remaining outstanding balance was "in the process of being settled".
He said: "All crew on the vessel have been paid up to and including the month of August.
"All salaries to the crew are based on the executed agreement with the International Transport Workers Federation for Seafarers.
"We are confident we will be able to take away all concerns and be able to sail out again soon."
Since June, the ship has been on charter hire to north-east based firms such as Peterson UK, oil producer Dana Petroleum and Moray Offshore Windfarm (East) Ltd.
Jake Molloy, regional organiser for RMT Union, called the situation "shameful" and said new legislation must be introduced to halt the practice of not paying staff for months on end.
North-east MSP Lewis Macdonald agreed, calling the move "deplorable".
He added: "If indeed the Ben Nevis is legally permitted to sail in these circumstances, I will be calling on the Department of Transport to look urgently at this loophole."