A North Sea vessel has rescued two men in a state of "shock and relief" after being stranded on a small boat near a wind farm for more than 28 hours.
Bobby Cowell, master of the ERRV Eagle, said the pair on board were "lucky to be alive" after his crew found their craft drifting and broken down 30 miles from shore, without a flare or lifejackets.
Mr Cowell, who has spent the last 10 years as a master at sea sailing out of Aberdeen, was doing "guard duty" at the TWBII wind farm in the German North Sea when the ERRV Eagle heard a distress signal, setting off a nine-hour rescue mission.
"I must say the two fellas on board are lucky they will wake up in the morning and still be alive", Mr Cowell said.
The emergency response and rescue vessel (ERRV) was alerted to a weak distress call at 2.45pm last Thursday (12th), hearing the words "drifting towards a wind farm", and joined a search with two other vessels in the vicinity, around 40miles from the Dutch village of Lauwersoog.
By 4pm, after several miles of sailing, Eagle came across the small fibreglass pleasurecraft "Invisible Touch" which was "rolling violently" in the 25knot winds and drifting towards outer shipping lanes.
The two German men on board, who spoke some broken English, were in a "state of shock and relief", having spent more than a full day trying to contact other ships for help, using a handheld VHF radio which was running out of power.
"It was not possible to go along side as it would have split open the hull on impact, so we managed to get close enough to throw a rope to them which was very dangerous as none of the two men on board had life jackets on", Mr Cowell said in his incident report.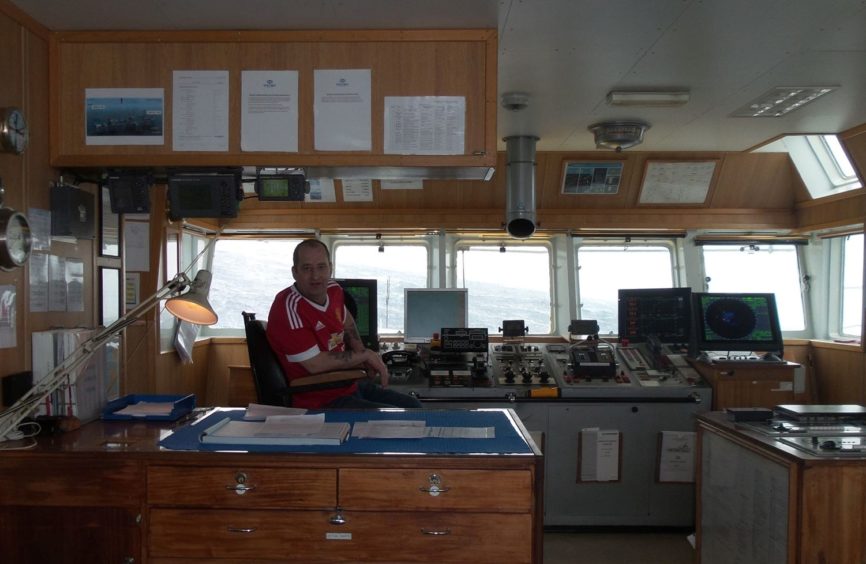 ERRV Eagle then rescued the boat near the wind farm, towing it in the North Sea towards shore, when at 6pm a search and rescue vessel arrived to take them the rest of the way to Borkum Island off Germany, arriving around midnight.
Mr Cowell said: "If we hadn't sighted them or had lost contact by dark fall it could have ended a very different outcome for the two lads on board due to bad weather forecasted for the night and the power they had left on their radio."
Despite a total of 30 years as a master at sea, this is one of the only major rescue operations he has been involved in, crediting his experience and OPITO training in the UK to its success.
After the collapse of Fleetwood Trawlers in the fishing sector, he entered the ERRV sector 10 years ago, most of which was spent with Aberdeen-based Sentinel Marine.
Mr Cowell is now sailing with Van Laar Maritime, a Dutch firm which owns the Eagle.
He said: "They're very lucky boys and I doubt they will be doing that again in the near future."
TWBII is the Trianel Windpark Borkum II wind farm on the German-Dutch border.
The ERRV, which had a small crew of four, was doing guard duty to patrol the area and alert nearby vessels of the safety zone when it heard the distress call.