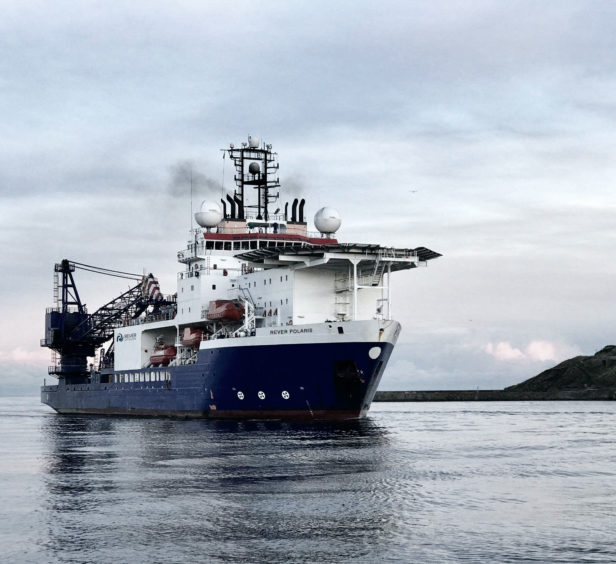 A seafarers union has hit back at plans from Rever Offshore to continue an extended rota for workers which it claims is "unsafe".
Nautilus International said Rever Offshore intends to press on through 2021 with workers spending a "fatiguing" six weeks at sea at a time.
Up to 220 workers will be affected by the changes, Nautilus said, with the pre-virus rota having been four weeks.
Rever Offshore, a subsea services firm headquartered in Aberdeen, said it implemented the rota in March last year to "minimise the risks associated with international travel during the COVID-19 pandemic".
A spokesperson added: "With no injury to personnel during project operations in 2020, the company refutes the claim that this rota plan is "unsafe".
"By reducing the frequency with which we change crews and by implementing Covid-compliant protocols – including arranging private testing of all crew prior to joining each vessel – we are significantly decreasing the risk of virus introduction.
"Rever is one of the few leading offshore vessel contractors not to have suffered an onboard case of Covid-19; an outstanding achievement which is testament to our strategy."
The firm said it has 50 Nautilus union members on its staff. It also highlighted that "similar or longer" rotas exist elsewhere in the sector.
Many parts of the industry broadly increased rotas last year when, due to the pandemic, international travel restrictions led to concerns about re-crewing vessels.
Nautilus International said Rever Dive Tech and Rever Offshore plans to continue with a six weeks on, six-off rota "indefinitely".
However the company has agreed to a review in March, giving consideration to "crew with a special situation" on the rotas, with quarterly reviews thereafter.
Nautilus said the majority of its members have "reluctantly accepted".
National organiser Steve Doran said: "We want more reliable rotas issued as soon as possible in order that members are able to better plan their lives.
"This is not a position we wanted to be in, but we are where we are, and clearly the ongoing pandemic situation remains a threat."
Last week it was announced that Dutch firm Boskalis, primarily known for dredging and heavy lift transport, would acquire Rever Offshore's subsea services business as part of an expansion drive.
The business has 130 onshore staff, mostly in Aberdeen, with around 220 offshore workers.
As part of the deal, Boskalis will acquire the fully owned Rever Polaris vessel and the chartered Rever Topaz.
Nautilus International said it has "sought assurances" from Boskalis that it will honour its members' existing Collective Bargaining Agreement and terms and conditions.
Rever Offshore said: "The Nautilus Collective Bargaining Agreement (CBA) covers a total of 50 marine crew and dive technicians. Following Rever's acquisition by Bosaklis, we confirm that their CBA and terms and conditions remain unchanged."