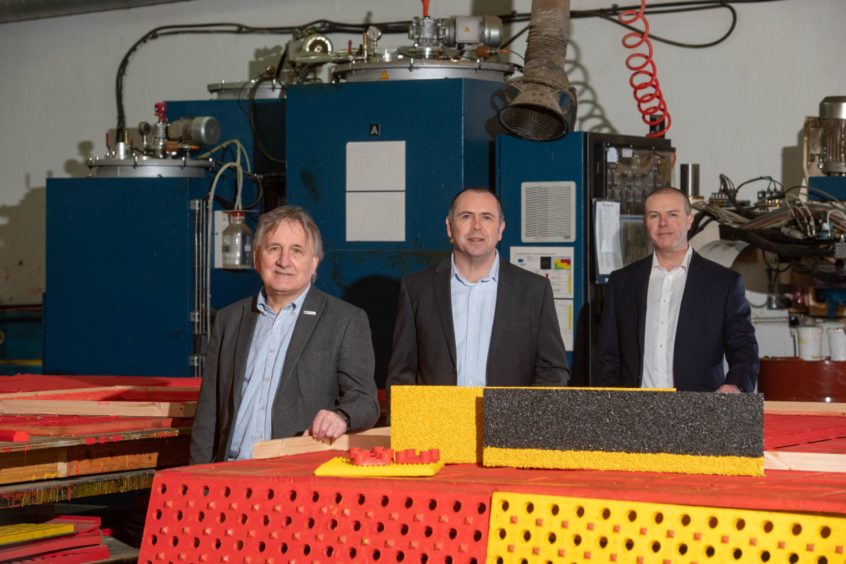 One of the north-east's leading business figures, George Yule, has joined newly rebranded Banchory firm Scotgrip International and acquired an 18% stake in the business as it eyes overseas markets for new growth opportunities.
Mr Yule, 69, is now part owner of the company, previously Scotgrip UK, which specialises in industrial safety and anti-slip flooring.
The other 82% is owned by members of the Prise family, who launched the business in 1991.
It employs 12 full-time staff across its Royal Deeside headquarters and satellite offices in Stavanger, Houston and Bangkok.
Bosses are planning to expand the firm's global reach into West Africa, the Middle East and the Asia-Pacific region.
Managing director Ralph Prise said: "George is highly respected in the Scottish business community, with a proven track record of growing businesses globally.
"Having shared our plans to expand our business, client list and staffing, we are delighted that he has agreed to join us.
"Despite the impact of Covid-19, 2020 was a satisfactory year for Scotgrip (UK).
"Nevertheless, we felt it made practical sense and was good timing to rebrand the business in accordance with Scotgrip International's global growth aspirations."
Mr Yule, who has sunk an undisclosed sum into the firm in return for his stake, said: "We believe there is tremendous potential to expand both in the UK and internationally.
"The fact the company celebrates its 30th anniversary in 2021 speaks volumes for how well it is regarded by industry and its customers, many of whom have been with Scotgrip since 1991.
"We are confident there is scope to take our high standards and range of innovative products all around the globe, not only in the offshore energy sector but also in industry sectors such as renewables, maritime and pharmaceutical plants – in fact anywhere where slips, trips and falls are an occupational hazard.
"In doing so, we have every opportunity to grow our sales revenue by as much as 40% – to £2.2 million – in 2022."
Mr Yule is a former vice-chairman of Aberdeen Football Club and ex-president of Aberdeen and Grampian Chamber of Commerce.
He is also a former professional footballer – he left his home city of Aberdeen in the early 1970s to join Bury as an attacker, with the highlight of his career with the
Lancashire club a League Cup victory against close neighbours Manchester City.
He returned to the north-east after a couple of seasons and started work at Hall
Russell's shipyard in Aberdeen, while continuing to play football for Huntly.
The North Sea industry veteran has more than three decades of oilfield experience under his belt, including start-ups, management buyouts, acquisitions and internalisation projects,
He is also the managing partner of his own family business, Aberdeen-based BGE Consultancy, which helps start-up and early stage firms, companies looking to grow their bottom line and business owners preparing for acquisition or exit.
Other past roles include a spell as chairman of Aberdeen Sports Village, while prestigious accolades that have come his way include the title of Grampian Industrialist of the Year 2009.
Recommended for you

Laid-off Halliburton worker's firm helps people back to work