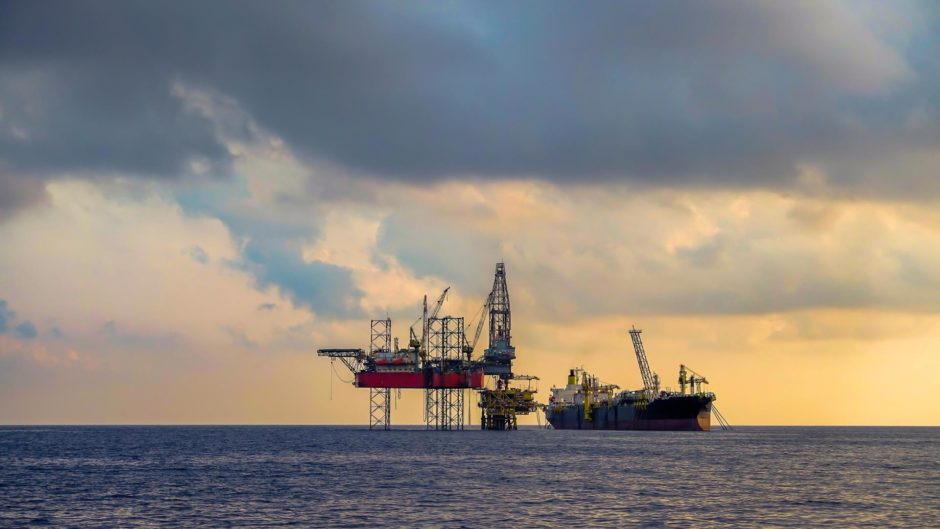 The boss of North Sea oil firm Orcadian Energy says his team is making "great strides" on an 80 million barrel project after casting aside the original development idea.
Orcadian, the new name for Pharis Energy, had intended to tap its 100%-owned Pilot field using a pioneering "steam flood" method.
Steam flooding involves injecting hot water vapour into a well, heating the heavy oil so that it thins, allowing it to flow more freely.
But following the completion of a study by engineering specialist Crondall Energy, Orcadian has decided to ditch the idea.
Privately-owned Orcadian is now looking to use a polymer flood scheme for Pilot and has submitted a concept select report to the Oil and Gas Authority.
Chevron successfully used polymer injection to boost production from the Captain field a few years ago.
Ithaca Energy, the new operator of Captain, sanctioned phase two of the polymer programme, which will require £400 million of investment, last week.
Polymers are added to water to make it thicker and – once introduced to the reservoir — more effective at sweeping oil towards production wells.
Orcadian Energy chief executive Steve Brown said a polymer flood would use up less energy, cost less and emit less carbon dioxide than a steam flood.
Mr Brown said Orcadian was making "great strides" in preparing Pilot for development and that his team was talking to potential partners who could help cover the costs.
Orcadian believes Pilot should be developed with a floating production, storage and offloading vessel (FPSO) and the drilling of 30 wells.
Mr Brown said investment of around £725m ($1 billion) might be needed to get to first oil.
"I'm sure you've checked (our accounts) on Companies House, but we don't have $1bn, so we have to do something to move the project forward," he said, adding: "Farming out to the right operator is absolutely in our sights."
Orcadian is now carrying out a polymer core flood programme in the US to back up its selection.
It is also examining how an FPSO on Pilot, about 90 miles east of Aberdeen, could be powered using green electricity, supplied via cable either from shore or an offshore wind farm.
Mr Brown said work on a field development plan would wait until after a farm-out had been completed.
He said whoever buys into the project would take over as operator and want to do things their own way.
On the move away from steam, Mr Brown said: "I'd been banging on about steam flooding for six years, but when I saw the analysis I changed my mind. When the facts change, you change your mind."
His team was "convinced" as recently as 2019 that the steam option was best the way to maximise production.
When the London-headquartered firm was founded in 2014, it was named The Steam Oil Production Company in 2014, after its planned development approach.
It was then rebranded in 2018 as Pharis, a name shared by a townland near where Mr Brown hails from, in Northern Ireland.
At the time, Mr Brown insisted the company still intended to use a steam flood on Pilot, discovered by Fina in 1989.
But Mr Brown said the business had effectively "nailed its feet to the floor" with the original name.
Having acquired other fields which suited a different approach, the board decided a rethink was needed.
Mr Brown said Pharis was a "great name", but a year after adopting it, Soco International decided to call itself Pharos Energy.
He grew tired of "endlessly" having to explain to people which of the two companies he represented.
Mr Brown, formerly of BP and Halliburton, said Orkney was "beautiful" and "wonderful" and that he was delighted to be able to adopt the name.
He and Orcadian Energy chairman Joe Darby visited Orkney frequently when they were involved in managing London and Scottish Marine Oil's interests in the Claymore and Piper oilfields.
Those two fields, now operated by Repsol Sinopec, continue to export oil to the Flotta Terminal on Orkney.
Mr Brown hopes oil from Orcadian's latest licence award will produce through Flotta one day.
Orcadian holds 50% of the licence, operated by partner Parkmead Group, containing the Fynn Beauly and Fynn Andrew discoveries.
Parkmead has described the former as a very large heavy oil discovery, while the latter holds 50m barrels of oil in place.
Recommended for you

Orcadian Energy may have found dancing partner on £1bn North Sea project