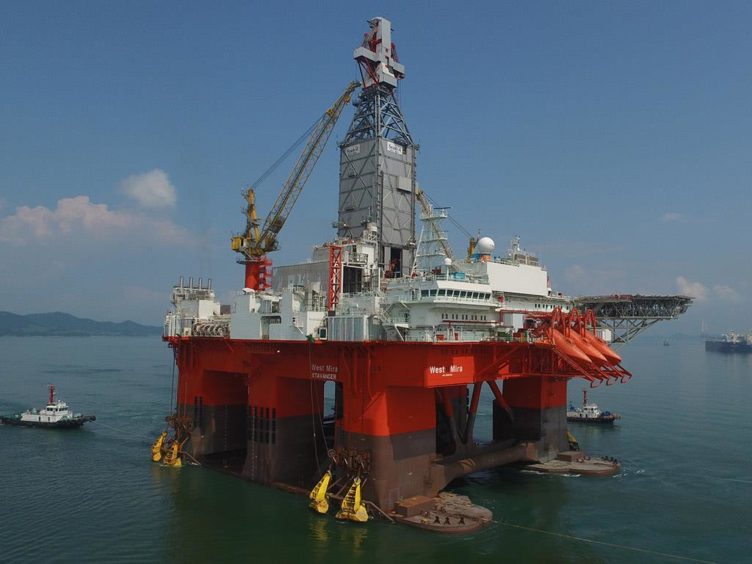 Around 200 jobs are at risk on a Seadrill North Sea rig after a spate of safety incidents saw its contract terminated, a union has said.
The West Mira rig was working for Wintershall Dea at the Nova field, until the operator handed Seadrill a termination notice earlier this month.
That came after a "serious incident" during a lifting operation in March saw a subsea Xmas tree "snap" off from a winch and sink 368metres to the seabed.
No one was hurt but the incident stopped drilling operations and caused "a period of unproductive time".
That case followed a number of other serious safety issues which saw Seadrill criticised by the Norwegian Petroleum Safety Authority (PSA).
The SAFE union of Norway has now said that around 200 jobs are at risk of layoffs on the Seadrill rig due to the contract termination.
Seadrill declined to comment.
SAFE said the level of job cuts will depend on whether crews can be transferred to other Seadrill rigs in Norway and whether the West Mira is "cold" or "hot" stacked.
Federation leader Hilde-Marit Rysst described it as a "sad and difficult" situation.
She added that the union will use "agreements and laws so that there are as few consequences as possible for as many employees as possible, and ensure that the company acts as correctly as possible".
The PSA issued improvement orders back in March over numerous serious incidents for safety on board the West Mira.
Among the breaches identified was a case of a lifeboat being washed overboard and structural damage to a crane.
The regulator called into question the "capacity and competence" of the Seadrill organisation, as well as its "risk understanding" on the rig.
At the time, Seadrill said it was taking the PSA's comments "very seriously" and putting procedures in place to ensure they are rectified.