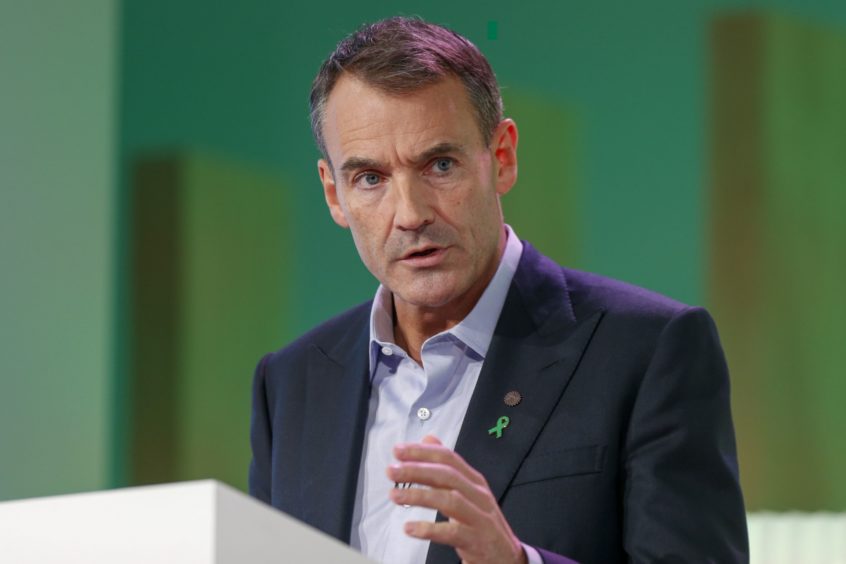 The boss at BP says the support provided to people leaving the company during its restructuring could be taken as a sign of its commitment to a just transition.
Company chiefs also insisted BP had made a "strong start" to executing its strategy of transforming into a broad energy company amid a grilling by shareholders at its annual general meeting today.
During the virtual Q&A, an investor asked whether BP would help employees transition from hydrocarbons to other industries once certain sites are decommissioned.
Chief executive Bernard Looney spoke about the energy giant's so-called reinvention, part of which involves 10,000 job cuts, announced in June 2020.
"That's not a just transition, per se, but it could be viewed as such, in some ways," he said.
"We're providing people who are leaving with more resources, support and help than we have done in the past to try to help them prepare for the next phase of their careers, which may well be in a very different industry."
Mr Looney also pointed out that existing employees were transferring from oil and gas to renewable energy operations within BP.
The Irishman, who used to head up BP's Aberdeen-headquartered North Sea business, also stressed that not only was the company helping employees, it was also assisting cities with the transition.
In September, BP announced a pact to become the planning and technical adviser for the Granite City's 2045 net zero "vision".
Mr Looney today described Aberdeen as an "oil and gas city" which now has a clear low carbon ambition, with BP partnering it.
BP's top team also faced calls at the AGM from Climate Action 100+ to strengthen its commitments on emissions reductions.
The investor-led initiative said BP's aim of delivering a 50% reduction to the carbon intensity of products it sells by 2050 did "not appear consistent" with becoming a net zero company.
Shareholders also asked whether BP could successfully align its capital investments with the Paris Climate Agreement's goals.
BP chairman Helge Lund said BP is "confident" its strategy is consistent with Paris and is "pleased" with the progress made in the last 12 months.
Mr Lund highlighted several targets set and investments made by BP since February 2020, when it announced its ambition to become a net-zero business by 2050.
In August, the company unveiled its strategy to transform from an international oil company into an international energy company.
As part of its efforts to reshape, BP vowed to cut its oil and gas production by 40% in 10 years.
The London-headquartered company also said it would invest 10 times more in low carbon technologies like hydrogen and carbon capture, taking it to £3.8 billion a year.
Over the same period, BP aimed to develop around 50 gigawatts of net renewable generating capacity, a 20-fold increase from 2019 levels.
The firm also entered into the UK and US offshore wind markets and outlined plans to develop the UK's largest blue hydrogen production facility on Teesside.
And BP intends to participate in the ScotWind offshore wind leasing round.
Mr Looney said: "We've made strong start and are optimistic about the year ahead. The team is in the groove and is focusing on the right things."
Mr Lund said: "We could hardly have asked Bernard and the leadership team to do more."
BP bosses also defended their decision to restart share buybacks and challenged accusations that they had misled people by "excluding" $12 billion worth of hybrid bonds from net debt calculations.
Mr Looney said BP's approach was "not misleading" and, instead, was transparent, "entirely in accordance with international standards" and approved by auditors.
Recommended for you

TotalEnergies to bid in Scottish offshore wind process